Sen. Kaine, GOP opponent spar during first campaign debate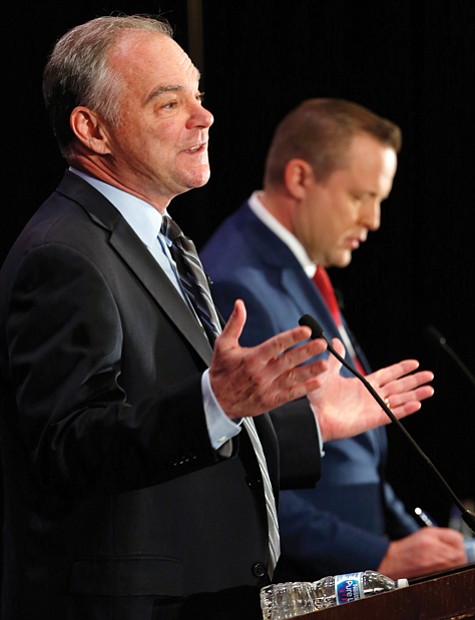 HOT SPRINGS
Democratic U.S. Sen. Tim Kaine and Republican Corey Stewart, candidates in Virginia's U.S. Senate race, had a quarrelsome first debate last Saturday, with President Trump serving as a frequent focal point of the sparring.
Mr. Stewart, an outspoken acolyte of President Trump and one-time state chairman of Mr. Trump's presidential campaign, accused Sen. Kaine of being an ineffective elitist who puts his opposition to the president above all other considerations. He said Trump-backed tax cuts and increases in military spending were helping Virginia's working class and chided Sen. Kaine for not being more supportive.
"Whether it's good for Virginia or bad for Virginia, he opposes everything that President Trump does automatically," Mr. Stewart said.
Sen. Kaine, a former vice presidential candidate seeking his second term in Washington, said he has worked with Mr. Trump on areas of common agreement but always puts Virginia's interests first. Sen. Kaine said he is a needed check against the president.
The debate, sponsored by the Virginia Bar Association and held at the posh Homestead Resort in Bath County, featured plenty of sharp exchanges and was often punctuated by boos and jeers from the crowd. Previous VBA debates have been much more staid.
The audience burst into laughter when Mr. Stewart said President Trump was "standing up" to Russia.
"If there's anything that demonstrates the difference between us, it's Corey Stewart standing up here and saying that President Trump is standing up to the Russians," Sen. Kaine said. "President Trump is caving to the Russians."
Officials in both political parties have grown increasingly concerned about Mr. Trump's cozy relationship with Russian President Vladimir Putin.
Mr. Stewart's full embrace of Mr. Trump puts him at odds with many elected Virginia Republicans, who have tried to keep their distance from the president. Virginia's growing urban and suburban areas have made the state increasingly friendly to Democrat, including in November 2016, when Democratic presidential candidate Hillary Clinton and Sen. Kaine, her vice presidential running mate, won Virginia.
Republicans haven't won a statewide election in the Old Dominion since 2009.
Sen. Kaine is an early favorite to win re-election; national attention and deep-pocketed outside groups are more focused on other Senate races. The former governor has a huge cash advantage over Mr. Stewart, who has never run in a statewide general election campaign.
Mr. Stewart, a conservative provocateur and defender of Confederate monuments, launched several broadsides against Sen. Kaine's record as governor and in the Senate.
"He's too weak, he's too liberal, and he's got nothing done," Mr. Stewart said.
Earlier, he said his previous promises to run a "vicious" campaign against Sen. Kaine means he'll be "brutally honest" about Sen. Kaine's record and not attack him personally.
Sen. Kaine accused Mr. Stewart of lying in order to deflect criticism for his past associations with unsavory people. Sen. Kaine said it was "disgraceful" that Mr. Stewart had campaigned in support of Judge Roy Moore, a defeated U.S. Senate candidate in Alabama who was accused of sexual misconduct.
Sen. Kaine said Mr. Stewart's campaign strategy was clear: "Make it nasty, make it personal, or make it up."