Kaine comes out swinging
U.S. Senator challenges GOP vice presidential contender over Donald Trump's record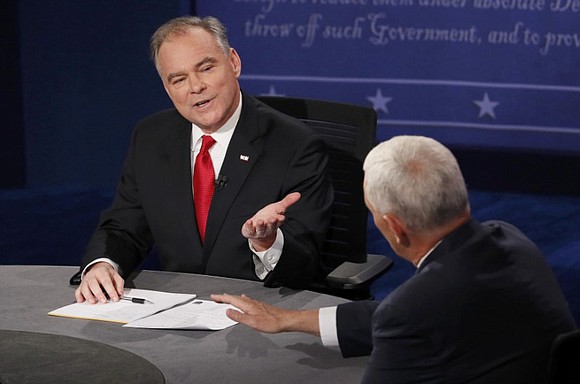 Democratic vice presidential candidate Tim Kaine aggressively challenged Republican candidate Mike Pence over a long list of Donald Trump's controversial positions and statements Tuesday night, drawing a vigorous defense of Mr. Trump's tax history.
But Gov. Pence sidestepped criticism of Mr. Trump's demeaning comments about women, his public doubting of President Obama's citizenship and broader questions about his temperament.
The encounter between Gov. Pence of Indiana and U.S. Sen. Kaine of Virginia, who is the No. 2 to Democratic presidential nominee Hillary Clinton, was the only such debate between the vice presidential contenders before the Nov. 8 election, and the two spent most of their time attacking each other's running mates.
For more than 90 minutes at Longwood University in Farmville, neither Gov. Pence nor Sen. Kaine appeared to deliver a knockout punch.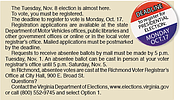 Gov. Pence sought to project an image as a reassuring presence, in contrast with the bombastic Mr. Trump, while Sen. Kaine tried to frighten voters away from Mr. Trump and make Mrs. Clinton seem more trustworthy.
A CNN/ORC snap poll declared Gov. Pence the winner with 48 percent support, compared with 42 percent for Sen. Kaine, who frequently interrupted his opponent.
Mr. Trump watched the debate from Las Vegas and in an unusual move, live tweeted during the debate and said he was pleased by his running mate's performance.
"Mike Pence won big. We should all be proud of Mike!" Mr. Trump said.
The encounter set the table for a second presidential debate looming on Sunday, Oct. 9, at Washington University in St. Louis between Mrs. Clinton and Mr. Trump, who needs to rebound from a rocky performance from his first debate, one that gave Mrs. Clinton a boost in national opinion polls with Election Day only five weeks away.
Bickering Tuesday night between Sen. Kaine and Gov. Pence was so intense that they frequently talked over each other. Sen. Kaine was seen by television commentators as being over-prepared and over-eager as he circled back to Mr. Trump's refusal to release his tax records at almost every opportunity.
Sen. Kaine called the Republican presidential nominee a danger to U.S. national security and someone who denigrates women and minorities and appears to pay little in federal taxes.
Sen. Kaine drew Gov. Pence's ire by hearkening back to a remark from former Republican President Ronald Reagan that "some fool or maniac" with a nuclear weapon could trigger a catastrophic event.
"And I think that's who Gov. Pence's running mate is," Sen. Kaine said.
Gov. Pence shot back: "Senator, senator, that was even beneath you and Hillary Clinton and that's pretty low."
Sen. Kaine repeatedly sought to persuade Gov. Pence to defend Mr. Trump's positions, but Gov. Pence steadfastly refused to take the bait.
One of Sen. Kaine's most aggressive lines of attack was over Mr. Trump's refusal to release his tax records, a decision that breaks with the practice of all other presidential nominees in modern history.
The New York Times reported last weekend that Mr. Trump had taken a $916 million tax loss in 1995 and may have avoided paying federal taxes for 18 years because of it.