Winfree Cottage to get TLC, finally
6/8/2016, 6:32 p.m.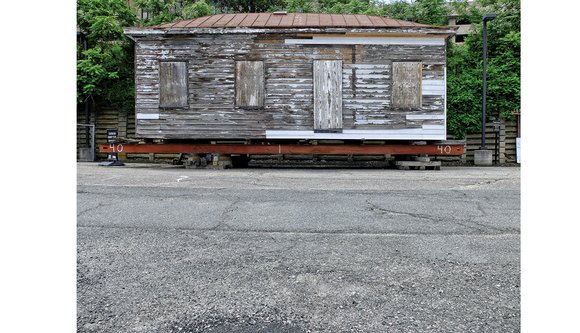 The bedraggled, but historic Winfree Cottage — which now sits beside the Lumpkin's Slave Jail site on the Richmond Slave Trail in Shockoe Bottom — is finally receiving some tender loving care in a bid to halt its decay.
In the past two weeks, rotten wood has been replaced and the City of Richmond has approved a permit to allow the cottage to receive a fresh coat of whitewash and have its metal roof repainted.
Painting was scheduled to begin this week.
What makes this little house special is that it is said to be the last slave cottage in Richmond. What is known is that the cottage was purchased or built in 1866 by David Winfree, a former slave owner, who deeded it to Emily Winfree, his former slave and the mother of five of his children, along with 100 acres near what is now Commerce Road and Semmes Avenue in South Side.

City-owned for at least 12 years, the cottage has long been envisioned as a visitor's center for the Richmond Slave Trail.
But the cottage has been left to the weather since being rescued from demolition in 2002 by David Herring and Jennie Dotts, who led the once-active Alliance to Conserve Old Richmond Neighborhoods.
Still awaiting a permanent home, the 700-square-foot cottage remains atop the trailer and steel I-beams on which it was moved from Manchester to Shockoe Bottom 14 years ago.
Appalled at the slow deterioration from water damage, Historic Richmond has jumped in to stabilize the building, with help from the City of Richmond and several businesses.
A nonprofit that seeks to save historic properties, Historic Richmond secured donations of lumber from Siewers Lumber & Millwork, paint from Sherwin-Williams and other materials from Lowe's to get the work going, according to Danielle Worthing, a preservation specialist for the organization.
Ms. Worthing said that in May, Restoration Builders of Virginia undertook the essential carpentry work. Now the project is waiting for painter Emmett Burke to recoat the building. The city agreed to pick up the labor costs, she said.
She said the work is following the plans of volunteer consultants Charlie Field of Obsidian Inc. and Mimi Sadler of Sadler & Whitehead Architects PLC, who prepared them through the nonprofit Storefront for Community Design.
"This is only the first step towards permanent stabilization of the Winfree Cottage," Ms. Worthing said. "We look forward to working with Storefront, other partners and the community to find a home for this structure. There is still a great deal more work to be done."