Brothers awaiting Olympic trials after injuries
Reuters | 6/10/2016, 6:39 a.m.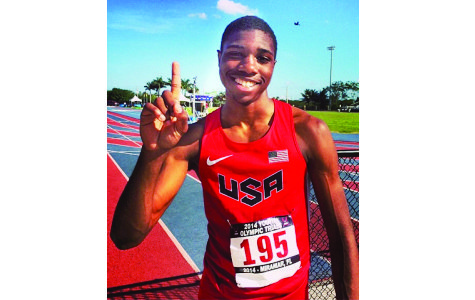 Noah Lyles has bigger fish to fry than Virginia's 6A Track and Field Championships.
The state's fastest sprinter, a junior at T.C. Williams High School in Alexandria, chose not to run last Saturday at the track championships Todd Stadium in Newport News after suffering a slight hamstring injury during the preliminaries.
Last Friday, he breezed to the fastest qualifying time in the 100-meter preliminary round — 10.71 seconds — but felt some discomfort in the back of his leg.
He was scratched from both the 200-meter trials on Friday, June 3 and the 100-meter final on Saturday, June 4.
Lyles' brother, Josephus Lyles, sat out the entire meet with a quadriceps injury. Josephus also did not compete a week earlier at the Northern Division regionals.
Noah Lyles was the defending State 6A champ in the 100- and 200-meter events, while Josephus was the defending champion in the 400 meters.
Both Noah, 18, and Josephus, 17, have qualified for the U.S. Olympic Trials July 1 through 10 and the IAAF World Junior Championships July 22 through 27, both in Eugene, Ore.
Noah, with the fastest 100- and 200-meter clockings in Virginia school history, is one of 32 Olympic trials qualifiers in the 100 and one of 30 in the 200.
Josephus is among 28 qualifiers for the 400 trials.
Trials qualifying standards are 10.16 seconds for the 100, 20.50 for the 200 and 45.40 for the 400.
If successful in Eugene, the brothers could advance to the Summer Olympics Aug. 5 through 21 in Rio de Janeiro.
They have signed to compete at the University of Florida starting this fall. — FRED JETER