Speakers support race video and name change for Byrd Middle School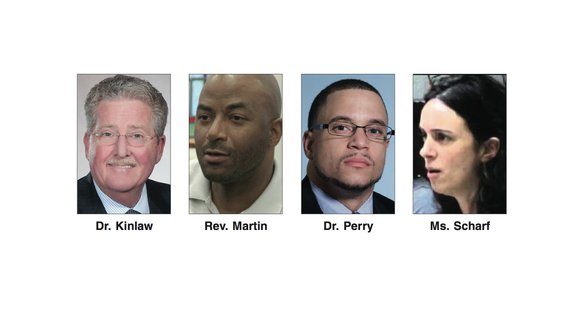 Henrico County Public Schools has not banned the video on racism that upset some parents and their children at Glen Allen High School and created wider community turmoil when the Henrico County School Board chairwoman and superintendent apologized for it being shown.
In an interview Tuesday, Andy Jenks, spokesperson for Henrico County schools, told the Free Press, "No," when asked if the video has been banned.
Mr. Jenks said he was representing the views of Superintendent Patrick Kinlaw.
"At no point did anyone from Henrico County Schools explicitly use the word 'ban,'" Mr. Jenks said, referring to the Feb. 10 statement in which Dr. Kinlaw and School Board Chairwoman Michelle F. "Micky" Ogburn apologized for showing the video to students and indicated it would not be shown again in Henrico schools.
In the statement, Ms. Ogburn, said, "School leaders have been instructed not to use the video in their schools. In addition, steps are being taken to prevent the use of racially divisive materials in the future," she said.
The county's two top school leaders issued their joint statement six days after students at two Glen Allen High School assemblies on Feb. 4 watched the 4-minute video "Structural Discrimination: The Unequal Opportunity Race" as part of a presentation on race relations at the predominately white school.
The animated video, in which white and nonwhite runners line up on a track for a foot race, focuses on obstacles to progress that African-Americans historically have faced, shows the various benefits derived by white privilege and points out that affirmative action is one necessary step to help correct systemic racism and injustice.
"A portion of our board chair's response on the subject stated that school leaders have been instructed not to use the video in our schools," Mr. Jenks said. "We viewed that statement differently" than most in the public who believed that it calls for an outright ban.
He added that some board members, including Ms. Ogburn, indicated that they did not find the video offensive, but would have preferred it be viewed in other settings, such as "in a small classroom where a dialogue was more likely to occur and where viewpoints were more likely to be aired."
When asked when the board would make a final decision on whether to allow the use of the video at Henrico schools in the future, Mr. Jenks said, "As we receive more community feedback and go through the process, we will determine how we go forward."
"Any (determination) probably would take place in some sort of open session," he said.
Ravi K. Perry, associate professor of political science at Virginia Commonwealth University who led the Glen Allen High assemblies, said it is clear to him that Henrico school leaders originally meant to ban the video as the statement indicated.
"The statement from the school board several weeks ago specifically instructed all teachers not to use the video," he said Tuesday.
In an emotional address to the School Board at a public meeting last week, he said, "I've been attacked by you. You have insinuated very clearly in your statements that your goal is to ensure that this type of program never exists again."