Speakers support race video and name change for Byrd Middle School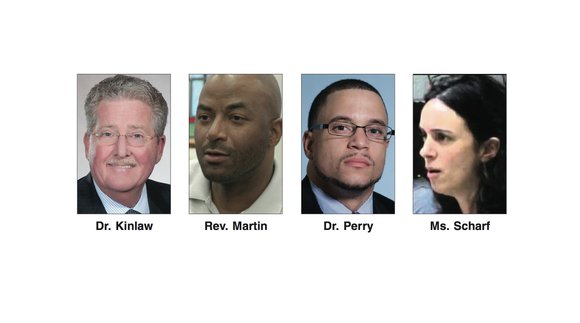 He added, "The story that's been missing here is that Glen Allen High School, its administrators and its students are simply amazing. You have allowed those voices to be silenced by banning the video and by also not releasing the entire recording video of that discussion."
Dr. Perry's remarks mirrored those of a diverse array of dozens of people who spoke at the meeting against the video ban.
"Centuries of racism and white privilege have made you entitled and fragile and afraid to see a race-based video, which needs to be seen by everyone," Zandra Hicks, a retired Richmond Public Schools teacher, told the board.
"Our biggest fear is the elimination of our community, which by the way is happening now," said Ms. Hicks, who is African-American. "And yet you're the ones who are insulted."
Four of the five Henrico School Board members are white.
"Many of us are concerned by the message singling out this educational video for a ban sends. Doing so communicates to students of color that very real barriers to success that they or their family experience must go unacknowledged at school or be suppressed," said Adria Scharf, director of the Richmond Peace Education Center.
The majority of those who spoke also backed the community-based effort to rename Harry F. Byrd Middle School. The school is named after the staunch segregationist and former Virginia governor and U.S. senator. He was one of the chief architects of "Massive Resistance," a state-sanctioned policy designed to skirt the U.S. Supreme Court's 1954 ruling ordering public schools to be desegregated to end educational inequities.
Thousands of African-American children were denied an education when public schools were shut down rather than desegregate. State money also was steered to all-white private schools to pay for the education of white students in many jurisdictions where schools were closed.
The Rev. Marcus Martin of New Bridge Baptist Church in Henrico told the board he was representing a group of concerned clergy who favor renaming the school.
"The continued honor given to a person, Harry Byrd, with such a divisive history which goes against our mission and values as a school system should not be," he said.
"We have a chance in this moment not to turn a blind eye," he said, "or ignore what is blatantly in front of us, but rather confront and change because it's right. You did not make this problem, but you have an opportunity to correct this problem."
Brandon Rosado, a Tucker High School ninth-grader who attended Byrd Middle School last year, spoke on behalf of the Henrico Branch NAACP.
"Unfortunately, in 2016, there are still remnants of institutional racism and symbolism that remain in the public arena in the form of statues, flags, plaques, mascots and the names of institutions that were meant to intimidate, bully and oppress citizens of color," he said.
"The recognition of Harry Flood Byrd Sr. as the name for an institution of learning is opposed to education and the ideal of a diverse society."
Separately, the coalition leading the effort to rename Byrd is disputing the county's estimated cost of about $138,000 to rename the school.
They said they have found several ways to reduce the cost to less than $30,000 that they asked Henrico school officials to consider.
The School Board will hold a second public hearing on the proposed name change 6:30 to 8:30 p.m. Tuesday, March 8, at Byrd Middle School, 9400 Quioccasin Road.