Hanover golfer making big mark at 14
Fred Jeter | 3/11/2016, 12:20 p.m.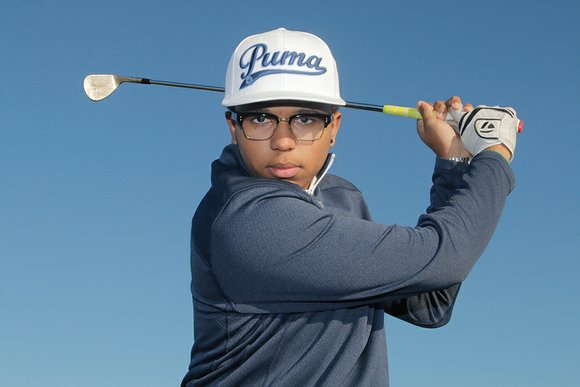 Christian Dyer would rather follow a golf ball, and the exciting places it might lead him, than follow the crowd.
At 6-feet, 210 pounds, the young athlete would seem well suited for basketball or football.
Instead the 14-year-old has been all-in for golf since receiving a set of clubs from his grandparents for Christmas when he was 3.
"Golf is something I love and have fun doing," the Hanover High School freshman told the Free Press. "It may not be the coolest sport, but I know it can take me a long way in life."
Already, his talent has earned him a dream ticket to Australia in June as a member of the Virginia State Golf Team. He also will compete in a high-profile American Junior Golf Association event during spring break in Hilton Head, S.C.
The son of Brian Dyer and Taryn Blount, Christian made his mark — albeit belatedly — at Hanover High last fall as a mere ninth-grader.
The lone African-American player on Coach Chris Pace's Hanover High roster, Christian was sidelined with a back injury until the final match of the regular season against longtime nemesis Atlee High School.
The Lone Ranger couldn't have rushed to his teammates' rescue any more dramatically. A long-knocking southpaw, Christian made his varsity debut a rousing celebration with a medalist 9-hole 36, leading Hanover High School to victory.
"The sky is the limit for Christian," said Coach Pace. "I'll tell you, Atlee had owned us in the past. That was some kind of first match."
Coach Pace knows a smooth swing when he spots one. He selected Christian as an Oak Knoll Middle School eighth-grader a year ago even though Christian was ineligible for varsity matches.
"It was kind of like a red-shirt season," Coach Pace quipped.
After his first game against Atlee High School, Christian went on to shine at the regionals and then became the first Hanover High freshman and first African-American to represent his school at the state tournament.
Hanover High opened in Mechanicsville in 2003. Coach Pace said he could recall just one African-American Hawk prior to Christian being on the team. That was James Pollard, Class of 2014, who now is plays tennis for Philadelphia University.
Christian draws attention for his prodigious drives (a recorded 327-yard blast at the Federal Club), his deft touch near greens, his friendly demeanor and for his racial background, although he is uneasy speaking about it.
"I just want to have a good time," he said. "If people look at me differently, it doesn't bother me. It won't affect anything I'm trying to achieve."
Another prominent local African-American high school golfer is Christian's close friend, Addie Parker. She stars at Monacan High School in Chesterfield County.
Christian and Addie take some of their practice cuts at First Tee of Richmond on School Street. But Christian has benefited from club memberships at Willow Oaks Country Club and The Dominion Club, where he excelled in junior programs, and now The Federal Club, a swanky layout in Glen Allen.
The list of African-American youngsters who have excelled in area high school golf is a short one. Perhaps most renowned is Nick Austin, a former standout at James River High School and the University of Richmond (Class of 2013) who is now director of golf at Independence Golf Club in Midlothian.
Christian enjoys pickup hoops with friends and family and has been urged to play basketball by his physical education teachers and coaches at school. But he always has been more apt to shoot from a tee box, or fairway, than basketball's 3-point arc.
He won the Virginia State Golf Association title as a 9-year-old and was dubbed "Little Tiger" in a Free Press article before kindergarten.
Christian dubs his sweet swing "a gift from God."
He credits First Tee Pro Paul Sargent, his parents, grandmother Willnette Dyer and grandparents Dr. Randy and Rose Adams as among those fueling his golfing desires.
It was Dr. and Mrs. Adams who surprised Christian with his first clubs at age 3.
"He never needed a lesson," father Brian Dyer said. "Right away, you could see he had a natural knack for it. He has always had that 'wow' factor."