Hanover standout Cayman Richardson to play ball at U.Va.
7/8/2016, 5:46 p.m.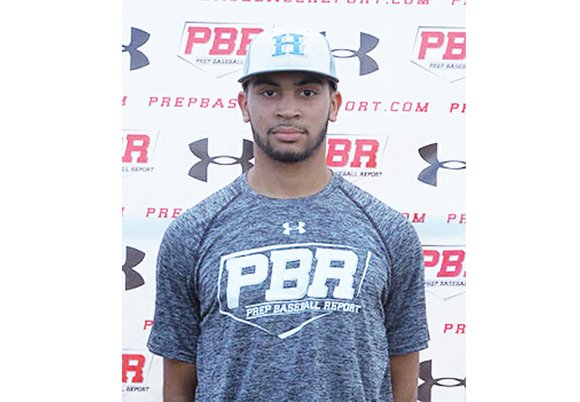 Cayman Richardson is going from one of the top high school baseball programs in Virginia to one of the top college programs in America.
After helping Hanover High School to three state titles, the 6-foot-2, 180-pound all-around talent will play baseball on scholarship at perennial NCAA powerhouse University of Virginia.
U.Va.'s baseball team won the College World Series in 2015, was runner-up in 2014, has made the NCAA playoffs each year since 2004, sells out most home games and has eight alumni active in Major League Baseball.
"I've been following Virginia closely ever since I was in high school," said Richardson. "I've been to many games there and I love the atmosphere. It's a perfect fit for me."
In earning All-State 4A honors as a shortstop, Richardson did it all this past spring for Hanover High Coach Charlie Dragum.
Hitting in the cleanup spot and fielding brilliantly, Richardson batted .470, with 11 doubles, 24 runs batted in and 25 runs scored.
A four-year starter, Richardson enjoyed team success at Hanover High that matched his individual accolades.
The Hawks clinched their third state crown in four seasons on June 14, with a 13-12 win over Liberty Christian Academy of Lynchburg in the 4A state finals at Liberty University in Lynchburg.
Hanover High also won the 4A state title in 2014 and the Group AAA title in 2013.  
"Cayman can really hit and, defensively, he is so versatile you can put him at any position on the field," said Coach Dragum.
"Virginia can plug him in wherever they need him."
Richardson grew up playing baseball in the Mechanicsville Little League and has competed on numerous travel squads, most recently with the Virginia Cardinals.
He dabbled in football and basketball before choosing to focus on baseball at Hanover High.
"Baseball became my main priority," he said. "People ask me about what I do off the field. Well, just about everything I do off the field, like weight training, is designed to help me on the field."
His father, Don Richardson, who grew up in the Martinsville area, is a former football quarterback at Virginia State University. He now works as a warehouse supervisor. His mother, Keri Richardson, is a Henrico County schoolteacher.
Richardson was the lone African-American to make this season's Richmond All-Metro squad and one of only two African-American players this year for the Hanover Hawks.
U.Va. has had very few African-American baseball players. One, standout E.J. Anderson, went to U.Va. from Atlee High School in Hanover County. He played for the Wahoos in the late 1990s and is the program's fifth all-time, home run slugger with a career total of 15.
Right now, the University of Virginia has a vacancy for shortstop. Standout shortstop Daniel Pinero, who started 194 games during the past three seasons, has signed a pro contract with the Detroit Tigers.
"I'll play wherever Coach (Brian) O'Connor wants me to play," Richardson said. "We'll see what I'm made of. But if I hit well, I believe I'll be in (the lineup) somewhere."