Williams takes place in athletic history at U.Va.
Fred Jeter | 10/27/2017, 5:38 a.m.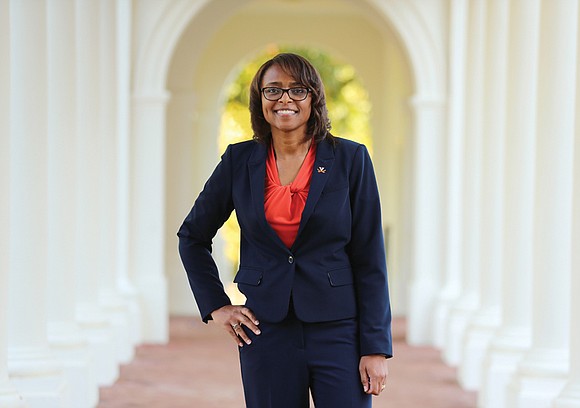 The University of Virginia has again made a statement for diversity with the hiring of Carla Williams as athletic director.
The announcement was made Sunday by U.Va. President Teresa Sullivan, with Ms. Williams introduced during a news conference Monday at the school in Charlottesville.
In signing a five-year deal worth $550,000 per year plus incentives, Ms. Williams becomes the first African-American female athletic director at an NCAA Power 5 conference school.
She succeeds the retiring Craig Littlepage, who was hired by U.Va. in 2001. At the time he was the first African-American athletic director at a school in the Atlantic Coast Conference.
Ms. Williams comes to U.Va. from the University of Georgia, her alma mater (Class of 1989), where she most recently served as deputy athletic director with an emphasis on the school's nationally prominent football program that currently is ranked No. 3 behind Alabama and Penn State.
During her 13-year tenure in Athens, the Bulldogs won 16 NCAA titles and 37 Southeastern Conference (SEC) titles in all sports combined.
Ms. Williams is a former All-SEC basketball guard who played professionally in Spain. She also had a stint as a Georgia women's assistant basketball coach. As a coach, she was involved with the recruitment and signing of La'Keshia Frett out of Hampton's Phoebus High School.
Ms. Frett, arguably the top player in Virginia high school history, is now a U.Va. assistant coach.
"Her experience as a successful student-athlete, coach and senior administrator at the highest levels of Division I athletics is impressive," Dr. Sullivan stated in a release from the university. "Equally impressive is her commitment to education and the academic pursuits of student-athletes."
In a statement, Ms. Williams said, "Athletics provided the opportunity for me to attend the University of Georgia as a first-generation college student, and my advanced degrees enabled me to further my growth and develop my career as an athletics administrator."
Ms. Williams earned a master's from Georgia and a Ph.D. from Florida State University. She and her husband, Brian, an associate professor of public administration and policy at Georgia, have three children.
Ms. Williams is the first U.Va. athletic director since Dick Schultz (1981-1987) not to have strong roots in Charlottesville.
Among her predecessors, Mr. Littlepage was a former assistant basketball coach and administrator, Terry Holland was former head basketball coach and Jim Copeland was a former football standout at the school.
U.Va. is among the nation's top all-round athletic programs. The Wahoos posted 13 NCAA titles in six different sports under Mr. Littlepage. The exception to the success has been in football, the primary money maker. The Wahoos have suffered losing seasons in eight of the past nine years and attendance has dwindled.
Weary of a steady drumbeat of defeat, especially to archrival Virginia Tech, U.Va. crowds in recent years have dipped below 40,000 at the 61,500-seat Scott Stadium.