Hooray for the Hoos!
The University of Virginia Cavaliers beat Texas Tech in a nail-biting overtime game to clinch the first NCAA title in school's history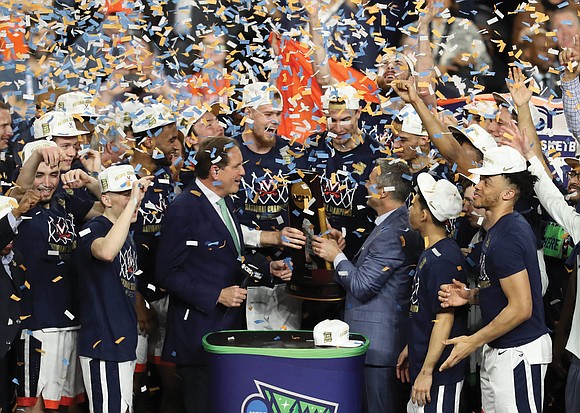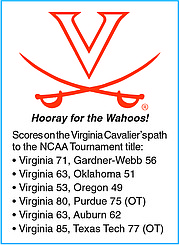 UVA championship
The state of Virginia is no stranger to NCAA basketball title winners.
The University of Virginia claimed its first NCAA Division I men's crown Monday night in Minneapolis.
Before that, the Old Dominion University women won the 1985 NCAA Division I title.
In NCAA Division II men's hoops, Roanoke College won in 1972, Old Dominion University in 1975 and Virginia Union University in 1980, 1992 and 2005.
The VUU Lady Panthers won the NCAA Division II title in 1983 and Hampton University's women took top Division II honors in 1988.
Also Virginia Wesleyan University won the NCAA Division III men's championship in 2007.
The University of Virginia's dream season could turn into dream seasons —plural.
U.Va. won its first NCAA basketball title Monday night at U.S. Bank Stadium in Minneapolis, defeating Texas Tech 85-77 in overtime.
The fun hasn't ended. The celebration of the Wahoos championship will continue at 2 p.m. Saturday, April 13, at Scott Stadium in Charlottesville. The free event is open to the public.
Don't be too surprised if the Wahoos are hunting an encore next April at the 2020 Final Four at Atlanta's Mercedes-Benz Stadium.
Coach Tony Bennett's Cavaliers were victorious this season with only one senior, back-up center Jack Salt, playing a significant role.
All other regulars are eligible to return next season.
Actually, this championship may have come a year ahead of schedule. It's hard to imagine, but Bennett's Bunch could be even more dominant in another year assuming the team's roster isn't diminished by the NBA draft.
The gifted group of returnees projected for 2019-20 showcases junior Kyle Guy, the Final Four's Most Outstanding Player, and sophomore De'Andre Hunter.
Playing the entire 45 minutes, Guy scored 24 points against Texas Tech while making four 3-pointers.
"This is how it was supposed to end," Guy said in a postgame news conference.
Hunter's career high 27 points in Monday night's final featured a game-tying jumper with 12.9 seconds left to send the contest in overtime.
Defensively, Hunter hounded the Red Raiders' standout, Jarrett Culver, throughout the contest, holding him to 5-for-22 shooting.
"We were determined to win; we had to," Hunter told the media.
In so doing, Hunter may have improved his stock for the NBA draft later this spring. The 6-foot-7 forward has made no formal decision about leaving school early, although some mock drafts have him listed as a lottery pick. 
Both Guy, from Indianapolis, and Hunter, from Philadelphia, made the NCAA Final Four All-Tournament team.
Virginia's triumph came before a live crowd of 72,062 in Minneapolis and national CBS television audience. The Cavaliers finished the season with a 35-3 record, its only losses were twice to Duke University during the regular season and to Florida State University in the Atlantic Coast Conference Tournament. 
One of U.Va.'s hardest-fought victories was a 57-49 decision over Virginia Commonwealth University on Dec. 9 at John Paul Jones Arena in Charlottesville. VCU led 43-38 with 6:48 remaining in the game. 
Virginia's historical run to its first NCAA title came a year after if made the wrong kind of history. In 2018, U.Va. became the tournament's first No. 1 seed to ever lose to a No. 16 seed — University of Maryland-Baltimore County.