Hampton Pirates win MEAC; now face U.Va. in NCAA
Fred Jeter | 3/17/2016, 11:22 p.m.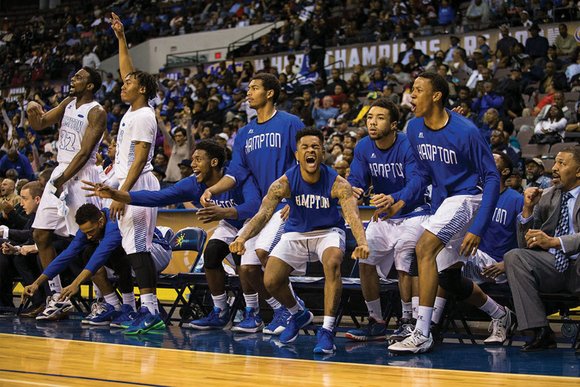 Of 68 teams chosen for the NCAA, Division I, basketball tournament, Hampton University has drawn one of the most challenging first round games.
Coach Buck Joyner's Pirates, which won the MEAC championship last Saturday, will travel to PNC Arena in Raleigh, N.C., on Thursday, March 17, to face the University of Virginia and ACC Player of the Year Malcolm Brogdon.
The game, with at approximate 3:05 p.m. tipoff, will be broadcast live on truTV.    
Despite a powerful season, Hampton is seeded No. 16, or last, in the NCAA's Midwest Region. The University of Virginia, which was the runner-up on last Saturday's ACC tournament, is ranked No. 1 in the region.
That's the deflating news. No 16th seed team has ever upset a No. 1 team.
More cheerful news is that HU, the proverbial David to U.Va.'s Goliath, is used to carrying a slingshot in its gym bag.
A year ago, HU faced then-undefeated University of Kentucky in Louisville in the second round of the 2015 NCAA Tournament and lost 79-56.
Hampton also was ranked No. 16 in 2011 when it lost to Duke University 87-45.
MEAC teams generally receive No. 16 seeds, or are relegated to the First Four like HU was last year, posting a win over Manhattan College before facing the University of Kentucky.    
Still, there is uplifting history in HU's corner.
In 2001, HU became the first No. 15 seed to knock off a No. 2 seed when it shocked Iowa State University with a 58-57 win.
And just three seasons back, No. 15 Norfolk State University played Cinderella with an upset of No. 2 University of Missouri.
Hampton has played U.Va. seven times over the years in regular season games and is 0-7.
While the Pirates are extreme long shots to advance in Raleigh, they had the upper hand last weekend at the Norfolk Scope, where they rolled to their sixth MEAC title.
Improving to 21-10, senior-laden HU beat Morgan State University 83-81, Savannah State University, 89-55, and South Carolina State University, 81-69, in the final.
Senior Reginald Johnson Jr., with 21 points and eight assists against S.C. State University, was Most Valuable Player of the MEAC Tournament. Brian Darden had 22 points and made seven straight free throws down the stretch. Quinton Chievous had 13 points and seven rebounds.
Jervon Pressley came off the bench for 14 points and nine rebounds.
HU has fared better in Division I MEAC than it did in its long association with the Division II CIAA.
Since joining MEAC in 1995, HU has won the tournament in 2001, 2002, 2006, 2011, 2015 and this year.
Between 1946 and 1994, the Pirates were CIAA champs only in 1991, 1982 and 1983.
While HU is coming off a victory, U.Va. isn't. Coach Tony Bennett's 26-7 Wahoos lost Saturday night to the University of North Carolina Tarheels in the ACC final in Washington
Still, U.Va. is ranked No. 3 nationally in the Rating Percentage Index power ranking. Hampton is No. 160 of 350 schools, with a 324 strength of schedule.
The Hampton-U.Va. victor will advance to the March 19 second round game in Raleigh against the winner of the Texas Tech-Baylor game.