'6 for Six'
'6 for Six' Hampton's Lady Pirates win sixth MEAC title
Fred Jeter | 3/17/2017, 8:39 p.m.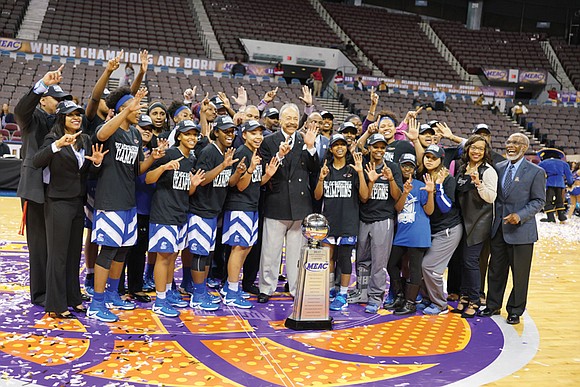 Hampton University's women's basketball squad has succeeded in meeting its first goal — a quest dubbed "6 for Six."
Now it's on to the NCAA Tournament for Coach David Six's Lady Pirates, who will play Duke University on Saturday, March 18, in Durham, N.C.
Hampton is the 15th seed, while Duke is the No. 2 seed in what is the Bridgeport, Conn., Region.
Last Saturday, the Lady Pirates defeated top-seeded Bethune-Cookman University 52-49 for its sixth, all-time MEAC title under Coach Six — thus the slogan "6 for Six."
Jephany Brown had 10 points and five steals and Mikayla Sayle had 10 points and eight rebounds in helping HU to a 20-12 record.
On the season, HU's top scorer has been Virginia Commonwealth University transfer Monnazjea Finney-Smith with an average of 12.5 points per game. Finney-Smith is from Portsmouth's I.C. Norcom High School. Her brother, Dorian Finney-Smith is a rookie with the NBA's Dallas Mavericks. Another brother, Ben Finney, is a former standout at Old Dominion University.
HU's last MEAC crown came in 2014. The Lady Pirates then lost to West Virginia in the first round of the NCAA Tournament.