VCU vs. U.Va.: Siegel Center thriller Friday
Fred Jeter | 11/17/2017, 7:39 p.m.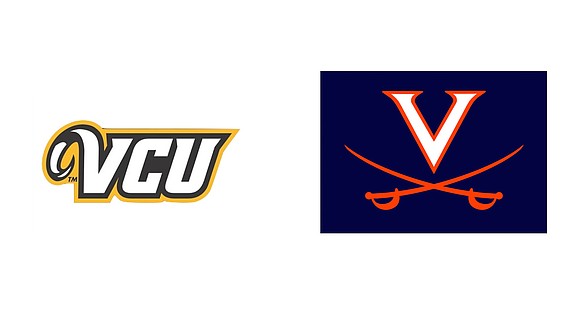 Virginia Commonwealth University holds the all-time basketball upper hand over every state school except one — the University of Virginia.
The Rams have a chance to cut that deficit on Friday, Nov. 17, when U.Va. comes to the Siegel Center in Richmond to face VCU and its rambunctious — visitors might say obnoxious — fans.
The game marks the 102nd straight sellout for VCU dating to 2011.
Since becoming an NCAA Division I team in the mid-1970s, VCU owns a convincing 224-137 record over in-state Division I opponents, not counting U.Va.
Representing the powerful Atlantic Coast Conference, U.Va. holds an 11-2 advantage over the Rams in a rivalry dating to 1976. U.Va. won their last meeting 74-57 in 2014 at the Siegel Center.
VCU upset Virginia 59-56 in 2013 at John Paul Jones Arena in Charlottesville on a late Treveon Graham 3-pointer.
This will be a marquee matchup of national significance. VCU has been to seven straight NCAA basketball tournaments, while Virginia has gone five of the last six years. You can make a strong case that this game is a matchup of the state's top two programs.  
Both squads, while coming off strong seasons, look far different from a year ago.
The Rams have a new coach, Mike Rhoades, and nine new players. The Coach Rhoades era began Nov. 10 with a 94-64 rout of Grambling State University.
VCU hit 15 of 34 3-pointers (three each by DiRiante Jenkins, Malik Crowfield and freshman Sean Mobley), and senior Justin Tillman posted 14 points and 10 rebounds.
Coach Tony Bennett returns for his ninth season at U.Va. (189-93 record), but missing are last season's top player, London Perrantes, and players from a host of defections.
U.Va. struggled in the 60-48 opening win over the University of North Carolina-Greensboro on Nov. 10. 
A Wahoo to watch is Isaiah Wilkins, stepson of former NBA great Dominique Wilkins. The 6-foot-7 Wilkins had nine points and eight rebounds against UNC-Greensboro.
Regardless of the outcome on Friday, VCU will have no time to dwell. Next up is a flight to Maui, Hawaii, for a three-game tournament starting Monday, Nov. 20, against Marquette University.l