Coach McKay putting Liberty U. on the map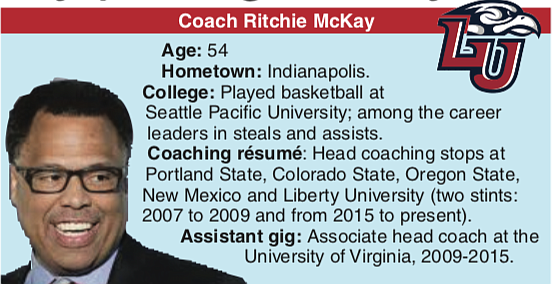 One of college basketball's most alluring stories is unfolding just 114 miles west of Richmond in Lynchburg.
Coach Ritchie McKay has stapled Liberty University — not exactly a hoops heavyweight — on the national basketball rankings map.
Coach McKay is the main man on the sidelines behind Liberty's meteoric rise in college basketball.
After serving six years as an assistant under the University of Virginia's Coach Tony Bennett, Coach McKay returned as Liberty's head coach in 2015.
Now in his fifth season at the Atlantic Sun Conference school, Coach McKay has guided the Flames to a 19-1 record and No. 24 (out of 353 NCAA Division I schools) in Net power rankings, which determine NCAA berths.
That's the highest Net power ranking in Virginia, followed by Virginia Tech, 33; Virginia Commonwealth University, 45; the University of Richmond, 56; and U.Va., 60, through games of Jan. 18.
Liberty's lone loss was Dec. 29 at Louisiana State University.
Not coincidentally, Liberty University is among the nation's defensive leaders. The Flames are holding opponents to 51.5 points per game, a paltry 36 percent shooting from the field and anemic 28 percent from beyond the arc.
There is a local connection.
Senior guard Georgie Pacheco-Ortiz averages 10 points per game and is among the team's top ball handlers and perimeter defenders. The Puerto Rican native starred locally at Deep Run High School in Henrico County.
Liberty went 29-7 last season, winning the Atlantic Sun title and upsetting Mississippi State University in the NCAA opener. The Flames were eliminated in the round of 32 by Virginia Tech.
Coach McKay's glowing résumé would seem to place him on a short list of upward bound coaches. But while black athletes have dominated college basketball for decades, there is still a scarcity of black coaches in the high-dollar Power 5 conferences — the plum jobs.
The ACC, for example, has just three — Leonard Hamilton at Florida State University, Kev- in Keatts at North Carolina State University and Danny Manning at Wake Forest University.
The Big 10 has one black coach, Juwan Howard at the University of Michigan. The Southeastern Conference has two, Cuonzo Martin at the University of Missouri and Vanderbilt University's Jerry Stackhouse.
There are two black coaches in the Big 12 — Mike Boynton at Oklahoma State and the University of Texas' Shaka Smart.
When job vacancies pop up, as they always do after March Madness, Coach McKay deserves serious consideration for a big time post.