Former U.Va. standout player Dawn Staley coaches South Carolina women to NCAA victory
4/8/2017, 9:47 a.m.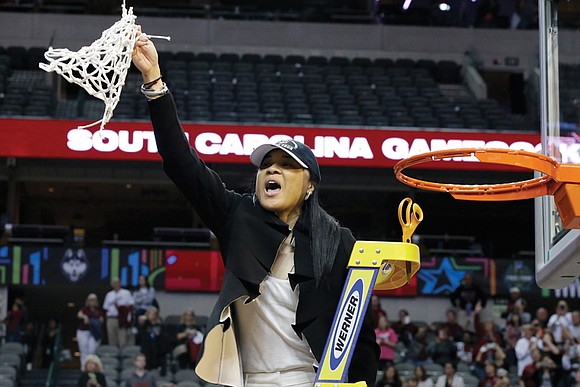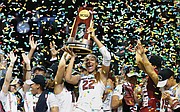 Dawn Staley, who once represented Richmond on the basketball court, ranks with the greatest players in women's hoops history.
Now she's making history as a coach, too.
The former University of Virginia star guided the University of South Carolina to its first NCAA Division I women's title with a 67-55 win over Mississippi State University last Saturday in Dallas.
The 46-year-old Staley becomes just the second African-American head coach to claim the NCAA women's title.
The first was Carolyn Peck, who coached Purdue University to the title in 1999.
A three-time All-American, Staley led U.Va. to three Final Fours as a player, but the Cavaliers never won the championship. In 1996, she spurred the U.S. Olympic team to the gold medal at the Summer Olympics in Atlanta.
Staley was a WNBA first round draft pick in 1999 and was a six-time All-Star with the Charlotte Sting and the Houston Comets.
During the 1996-97 season, Staley played for the Richmond Rage of the now defunct American Basketball League.
The Richmond Rage, which was 21-19 in 1996-97, split home games between the Richmond Coliseum and the Robins Center at the University of Richmond. In 1997-98, the team moved to Philadelphia.
As a college coach, Staley has compiled a 393-160 record at Temple University and now the University of South Carolina, where she has been head coach since 2008.
Her last three editions of the Gamecocks have gone 34-3 in 2015, 33-2 in 2016 and 33-4 this season.