Liberty University undefeated with QB Malik Willis
Fred Jeter | 10/29/2020, 6 p.m.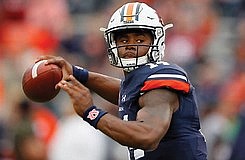 Fueled by an abundance of Black talent, Liberty University is exploring new football frontiers.
No less than 65 African-Americans — out of about 110 players on the roster — have helped the upstart Liberty Flames to a 6-0 start and a shot at some national attention.
The Lynchburg university, led on attack by dual-threat quarterback Malik Willis, now awaits a high profile Nov. 7 date at Virginia Tech in Blacksburg.
A hard-earned victory over a prominent program such as Tech could propel the Flames into national rankings. The Hokies were ranked 19th nationally prior to an Oct. 24 loss at Wake Forest University.
Liberty Coach Hugh Freeze's squad will get another crack at an ACC opponent on Nov. 21 when the team plays at North Carolina State University.
Demographics: According to The Institute for Diversity and Ethics in Sport, or TIDES, at the University of Central Florida, 49 percent of Division 1 FBS players are Black.
Virginia Tech, Liberty's upcoming opponent on Saturday, Nov. 7, lists at least 76 Black players on its roster of around 110.
Liberty lists its enrollment as 70 percent white and 5 percent Black, with another 15 percent listed as "un- known." The university is 59 percent women and 41 percent men.
Liberty leading man: Atlanta native Willis, who wears the No. 7 on his LU blue, white and red jersey, matched his jersey number in touchdowns in the Flames' 56-35 win over Southern Mississippi University last Saturday.
Willis, a redshirt junior who transferred to Liberty from Auburn University, passed for six touchdowns and ran for another, accounting for 345 yards in the air and another 97 running.
Some history: The private Christian college was founded in 1971 with 154 students by Dr. Jerry Falwell Sr. and Elmer Towns as Lynchburg Baptist College. It was later Liberty Baptist College before becoming LU in 1985. It has 15,000 residential students. It's most recent president, Jerry Falwell Jr., resigned amid a sex scandal in August.
Athletic progression: The Flames competed in the NAIA from 1973 to 1980, in NCAA Division II from 1981 to 1987 and NCAA Division I-AA from 1988 to 2001.
Competing in the 25,000-seat Williams Stadium with Astro Turf, the Flames joined the NCAA Division I Football Bowl Subdivision in 2019 as an independent.
In its first season in the FBS, the Flames were 8-5 and defeated Georgia Southern University in the Mortgage Cure Bowl in Orlando, Fla.
Bumps in the road: While the football program has become predominantly Black on the field, there have been problems. Several players transferred in the offseason for reasons described as "racial in- sensitivity." Among those leaving was defensive back Kei'Trel Clark from Manchester High School in Chesterfield County. Clark has relocated to the University of Louisville.
Follow the leader: The Flames' basketball program, led by African-American Coach Ritchie McKay, beat LU football to celebrity status. NBA veteran Seth Curry played for Liberty one year before trans- ferring to Duke University.
Competing in the Atlantic Sun Conference, Liberty basketball went 30-4 last winter, was at one point ranked in the Top 25 and qualified for the NCAA Tournament. The postseason was wiped out, however, by the pandemic.
NFL connections: The pro scouts know their way to Lynchburg. At least seven former Flames have competed on football's highest level. Currently, Antonio Gandy-Golden is a wide receiver with the Washington Football Team. Gandy-Golden was a fourth round draft choice in 2020.
Looking ahead: LU, while always in the search for a conference affiliation, is absolutely committed to top-tier football. The Flames will host Virginia Tech in 2022 and travel to the University of Virginia in 2023.
Other "name" schools on upcoming slates are Mississippi, Arkansas, Wake Forest and South Carolina, Army, Syracuse, Connecticut and New Mexico State.
Support: LU takes a back seat to few colleges in terms of a built-in fan base. There are about 15,000 students on campus but another 90,000-plus online.
Liberty Flames turn into bonfire
(Season so far)
Liberty 30, Western Kentucky 24
Liberty 36, Florida International 34
Liberty 28, North Alabama 7
Liberty 40, Louisiana-Monroe, 7
Liberty 38, Syracuse 21
Liberty 56, Southern Mississippi 35