Twins lend voices, expertise to healthy heart education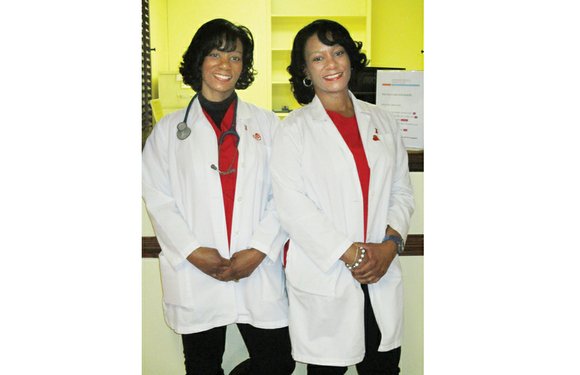 Fraternal twins Kimberly Ketter and Shaun Rivers share a deep faith and a desire to help others. And they aspire to live life to its fullest.
"We play hard and we work hard," Ms. Ketter told the Free Press in a recent interview with her sister. "We are passionate about what we do."
The 47-year-old Varina residents are best friends and nurses who work together, worship together and have many of the same friends.
They now also share roles as American Heart Association Heart Failure Patient Ambassadors.
Along with five other heart failure survivors, they joined a newly established national team in October 2015 of survivors and caregivers living with the impact of heart failure.
They are serving as the public faces of a multiyear national initiative called "Rise Above Heart Failure." Its mission is to raise awareness of heart failure risks and symptoms and to reduce heart failure hospital re-admissions, according to Michelle McLees, a spokesperson with the Mid-Atlantic affiliate of the American Heart Association.
As ambassadors, "we accept the responsibility to teach others at the local and national level how to recognize the symptoms of heart failure, to offer support through the Rise Above Heart Failure online network and to share with our own communities that they can live with heart disease," Ms. Rivers said.
The siblings shared their survivor stories at the AHA's national conference in Chicago last October, then again at the association's Mid-Atlantic Go Red for Women fundraising luncheon in February as part of American Heart Month events.
Ms. Ketter said she first suspected something was wrong in May 2009, when she became short of breath and fatigued after walking up the steps at her home.
At first, she said, "I kind of brushed it off."
The next day, she became ill at her job. She went to her family doctor, then to a cardiologist. A battery of tests that included walking on a treadmill revealed she had heart failure.
"My heartbeat wasn't contracting as it should," Ms. Ketter recalled.
She teared up, she said, realizing the seriousness of her condition.
It was "hard to believe that I had heart failure because I didn't have high blood pressure or diabetes" and "I was a former athlete in high school," she said.
Concerned that the condition might be genetic, Ms. Ketter encouraged her sister to get tested. Two weeks later, Ms. Rivers also was diagnosed with heart failure.
"We both went through a period of denial," Ms. Rivers said. "We were young and active and it was hard to believe it could happen to us."
She said they both "went through a period of grieving, which is a part of reaching acceptance that this is real and it's something we have to face head-on."
Research, Ms. Rivers said, shows that African-Americans experience almost double the rate of heart failure as others. Some of that she attributes to hypertension and high-cholesterol diets.
Today, the sisters said they take medicine each day to treat their heart failure. They also follow a healthy diet, exercise regularly and rest when necessary.