Personality: Darlene A. Scott
Spotlight on Women Heart Champion and volunteer health advocate
11/15/2018, 6 a.m.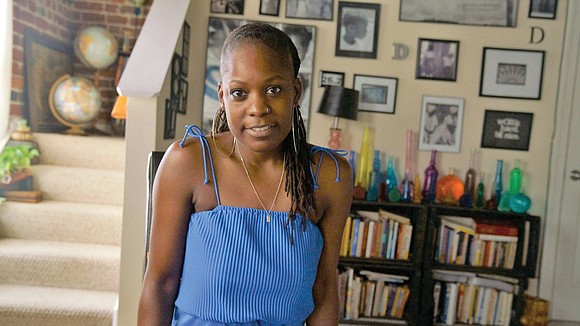 Darlene Anita Scott, an associate professor of composition and creative writing at Virginia Union University, is a long-distance runner and the image of great health and fitness.
That was two years ago.
At 41, Ms. Scott was training for her seventh marathon when she noticed that her conditioning wasn't improving. She visited her doctor, and subsequent testing revealed she had an enlarged heart and several others issues.
"According to my doctors, I am highly functional because when I went in to see her on the day of testing, my heart was functioning at (only) 20 percent. This was after running 10 miles that morning" Ms. Scott recalls. "Most people can't walk upstairs at that functioning rate, much less run."
Within a year, Ms. Scott had a pacemaker implanted. An ICD, an implantable cardioverter defibrillator, was installed in June 2017. The small, electronic device is connected to the heart and is used to continuously monitor and help control fast and sometimes life-threatening electrical problems with the heart. The ICD is about the size of a stopwatch.
"Once that was in place, my physician did continuing testing to see where the enlarged heart came from," she says. "We found out it was an autoimmune disease producing cells that fight off what they think is a threat to the body but attacks the heart, causing electrical and rhythm problems, as well as damaging tissue and causing parts of the heart to malfunction."
Through research, she found WomenHeart: The National Coalition for Women with Heart Disease, a national nonprofit started in 1999 that helps educate and advocate for women with heart disease. The organization has 110 patient support groups in 40 states.
After working with an advocate, Ms. Scott says she wanted to help others as a WomenHeart Champion.
"That would also help me because it would give me a reason for going through the heart situation," Ms. Scott says." Otherwise, when I had that loneliness 'why me?' moment, I could be helpful to someone else. It is a learning experience for me. I also wanted to add purpose to the experience."
Ms. Scott joined nearly 50 women in the Class of 2018 for training at the Science and Leadership Symposium at the Mayo Clinic in Rochester, Minn. The four-day symposium, led by renowned cardiologists and experts in health policy, advocacy and communications, has given Ms. Scott a foundation from which she can support other women facing or at risk for heart disease.
She is now part of a network of 850 volunteers across the country ready to help educate and advocate for women.
"We learn how to talk about heart disease in the community, as well as some of burdens people are coming with as they come seek you out as an educator," Ms. Scott explains.
She learned about various types of heart disease, including conditions like hers, in which "there was nothing I could have done to prevent it."
In such cases, she says, "we don't need to talk about prevention. We need to talk about how to live with" heart disease.