The blessing of Heaven
It's about family togetherness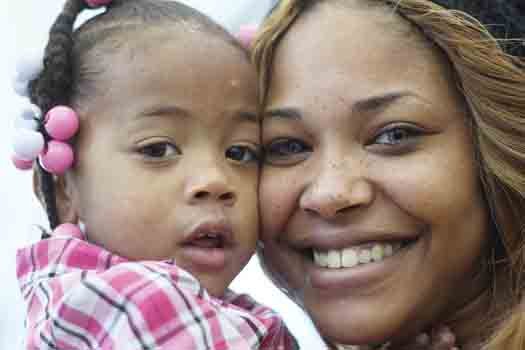 For Ayisha Carter and her children, every day is Thanksgiving.
"We're thankful for having such a wonderful family," the 24-year-old says forthrightly in her soft melodic voice. "We all look forward to waking up to each and every day to each other."
That's no canned greeting card sentiment.
The thankfulness comes from the personal experience that binds them.
Ms. Carter grew up in a chaotic household with parents that she said were mired in drug addiction and unable to properly care for their 17 children. Authorities ultimately moved many of them to foster care, she said.
She learned to be a mother taking care of younger siblings, and now she is raising three of her siblings as her own, along with her own son, Deon, 8.
Ms. Carter adopted her 13-year-old sister, Izira, and 12-year-old brother, Theodore, nearly three years ago to rescue them from foster care.
Last Saturday, Ms. Carter finalized the adoption of her youngest sister, a sweet-faced, 2-year-old named Heaven, whom Ms. Carter has cared for almost since birth.
Ms. Carter officially became Heaven's mother at the Richmond Juvenile and Domestic Relations District Court's National Adoption Day ceremony — an annual program to highlight adoptive families.
Ms. Carter and Heaven were among 26 diverse families who participated in the program to celebrate children gaining permanent homes.
Some were adopting children of those who could not raise them. Others, like Ms. Carter, were relatives who have stepped in to care for children of family members.
It was a day of blessings for the youngsters and their new parents.
"I wanted them to have a place to permanently call home," Ms. Carter said, explaining that she felt moved to act after seeing so many of her brothers and sisters placed in foster care.
While she was never removed — "and I don't know why" — she said 10 of her 16 siblings did end up in foster care after her parents were deemed unfit. Seven ultimately were adopted by families with no connection to hers.
Ms. Carter is grateful Heaven and the other children are part of her life. Like other families, she said, "it's not always perfect with two teenagers. We pray a lot. But we stick together."
She said Izira and Theodore had been in 12 foster homes before she was able to bring them to live with her at her Chesterfield County home.
"It's been traumatic for them," she said.
Both are doing well now, she said, since settling into a routine.
Ms. Carter remembers being at the hospital after her mother delivered Heaven, making sure that social workers knew of her interest in caring for the baby. They were there, she said, to remove the new baby from her mother.
Ms. Carter said she didn't get the baby immediately. She said it took at least two months before she was allowed to take Heaven home, all the while having to prove herself responsible.
"At first I was only allowed to visit on weekends, and then a few days a week before I was allowed to take her home."