The gift of family
12/22/2017, 2:03 p.m.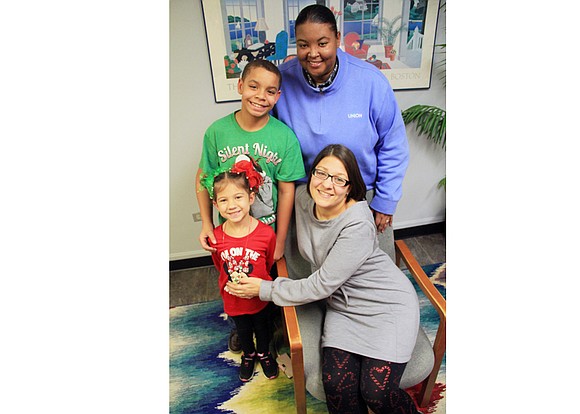 By Ronald E. Carrington
Emanuel "Manny" Browder has a different Christmas song to sing, as joy has been brought into his world.
The 11-year-old has the gift of a "forever family," an adoptive family of two parents and a little sister, and now stability and love.
It is his second Christmas with his new family and his happiness is nearly tangible and pretty contagious. "Awesome" is his favorite word, which he uses to describe himself — "Mr. Awesome" — the coming holiday, his new life and his permanent family that adopted him at age 9.
"They think I'm awesome," he says of his parents, Karen and Latisha Browder, and his 6-year-old sister, Sequoia, who rounds out the brood.
"They love me, and they want to take care of me. That's pretty much all."
"They love me, and they want to take care of me. That's pretty much all," he said, smiling at his family during an interview last week at UMFS, the former United Methodist Family Services in Richmond that provides foster care and residential services to youngsters.
To Manny, family is more important than presents under a tree. He had been in foster care for two years before being placed for a trial weekend with the Browders, who were looking to adopt a child.
"We wanted another child, and Sequoia wanted an older sibling," Karen Browder recalls. "It's really a better way to do it than looking into foster care. We found UMFS and went through their process."
UMFS asked a ton of questions, the Browders said, because they want to make sure they are matching youngsters with good families.
"They asked us what type of children did we think would fit into our home, what types of personalities did we think would fit," Ms. Browder said.
While the couple initially thought they wanted to adopt a girl to grow up with Sequoia, their only child, they fell in love with Manny, who UMFS officials thought would be a good fit.
"He was super polite. He had personality," Ms. Browder said. "He was not aware that we were considering him being a permanent placement in our home. He just thought he was there for respite for the weekend, to kind of hang out with our family.
"And he was fantastic with Sequoia. The two of them were holding hands. He was carrying her around. They were buddies. They were buddies from the minute they met."
The fifth-grader at Seven Pines Elementary School in Henrico County enjoys sports, competes in the 200-yard medley for the Chickahominy Twisters swim team at the Chickahominy Family YMCA in Sandston and is an expert builder with Legos.
He also enjoys watching Mom Latisha practice the drums with her band.
"They love me and my sister very much," Manny says. "They want to do special stuff for us. Like tonight, my mother is going to take us somewhere special, but she won't tell me."
Ms. Browder has high praise for Manny and how he takes on his family responsibilities and cares for others.
"He does things for other people, even when someone doesn't tell him to do it," she said.
"My family has taught me a lot," Manny explains. "They teach me how to be a young man. Mom Latisha is trying to teach me how to be like her brother, Rock."
Sarah Hess, a UMFS social worker who works with the family, believes the pairing has been awesome.
"Manny knows that he's incredibly blessed and tremendously loved," Ms. Hess said. "I think, for him, Christmas is being surrounded by his family as he continues to get to know them."