El ignites passion, inspires VCU grads
5/20/2016, 9:55 p.m.
By Thomas Kidd
"Go make the world a better place for people everywhere," was the recurring message to the more than 5,000 graduates of Virginia Commonwealth University at commencement exercises last Saturday at the Richmond Coliseum.
"This begins not only a new chapter in your life, but a new chapter for humanity," said VCU President Michael Rao.
In addition to congratulating the graduates, he thanked them for the opportunity to be a part of their educational lives.

"What you've done here extends beyond our campus boundaries," Dr. Rao continued. "Lives will be changed — not just courses completed."
President Rao charged the graduating class to join ranks with past and future VCU alumni to advance the human experience by solving the problems that today seem unsolvable.
His message was reinforced with a good dose of humor by keynote speaker Pamela K. El, a VCU Class of 1983 graduate who now is executive vice president and chief marketing officer of the National Basketball Association.
"VCU is a special place — sets you up for success in life," said Ms. El, recalling her last days as an undergraduate on the urban campus. "Aside from student debt, the sadness of leaving my friends behind and feelings of doubt about my future, I was all good."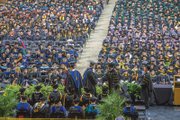 She told the graduates the best way to ensure success is to find their passion.
"Passion is a fire that burns inside," she explained. "I'm passionate about red wine, country music, my current husband and my next husband, Denzel Washington," she said to the laughs of the audience.
She went on to share that she recognized her passion while still a student at VCU.

"I told my academic adviser, 'I simply want to talk to people.' And it has culminated in being here having this conversation with you."
She warned that the fulfillment of one's passion is not easy, but realized through personal sacrifice and hard work.
"Now I get to tell the people about Stephen Curry and LeBron James. What could be better than that?"
Recognized as an industry leader for her expertise in brand management, marketing strategy, creative development and media, Ms. El is responsible for global marketing for the NBA, WNBA and NBA Development League.
She ended her talk with three musts: Show appreciation; see the Broadway show "Hamilton" and celebrate Saturday's accomplishment.
"Find something only you can do and do it," she added.
Ms. El was awarded an honorary doctor of humane letters degree, VCU's highest form of recognition.
Also honored at the ceremony were True and Charles S. Luck III, who were the recipients of the Edward A. Wayne Medal, which recognizes individuals who have made outstanding contributions or provided exemplary service to the university.