Full-service grocery store planned for East End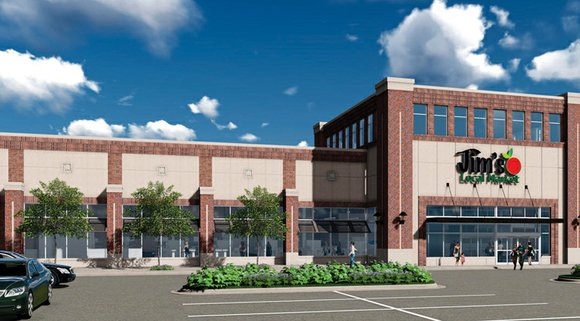 A new full-service grocery store is headed to Church Hill, it was announced Tuesday.
Richmond Mayor Dwight C. Jones, City Councilwoman Cynthia I. Newbille, 7th District, and T.K. Somanath, executive director of the Richmond Redevelopment and Housing Authority, issued a joint statement about the planned market that is expected to bring about 25 full-time and 22 to 30 part-time jobs to this employment-starved area of the city once it opens — likely a year or more from now.
The new supermarket is to be part of a potential $10 million to $20 million mixed-use development that is to include residential units, offices and retail shops in the two-block area bounded by Fairmount Avenue, Nine Mile Road, 25th and 26th streets.
The first new supermarket in this area in decades, the store also would complement plans for the $175 million redevelopment of the Creighton Court public housing community over the next few years. That includes the $50 million first phase that is to begin next year with redevelopment of the 20 acres where the former Armstrong High School building stands, on North 31st Street near Nine Mile Road, and where new homes and apartments are to rise.
The new store would be Richmond's first Jim's Local Market, an urban-focused operation that opened its first store last week in Newport News and is owned and operated by Jim Scanlon, a former Martin's Food Market regional vice president.
According to the statement, the project is outlined in an application to rezone the RRHA-owned property that was submitted to the city on Monday. The application is considered the first step in the lengthy approval process that must take place before construction could begin, likely in 2017.

The design and layout of the grocery store and the accompanying mixed-use development are still a work in progress, with details yet to be released.
Mr. Scanlon, though, is betting he can create success in an area that other supermarkets long ago deserted after losing money. The last, locally owned Sunny's Supermarket, closed in 2008.
"We believe we have a business model that's right for urban areas like the East End of Richmond," Mr. Scanlon stated, promising the new store would combine "quality products, affordability for all customers and a level of employee engagement that creates great customer service."
The investment dollars for the development are largely coming from Steven A. Markel, vice president of the Richmond-based Markel Corp. insurance and investment group. Mr. Markel and his wife, Kathie Markel, have played significant fundraising roles for Virginia Commonwealth University and the Maymont Foundation.
In the announcement, Mr. Markel stated that he got involved in the project after "seeing what Jim has done in Newport News and seeing the commitment of the city, the housing authority and so many community partners. That has convinced me that this is the right thing to do."
Still, this store will test how much this area has changed. Currently, the only full-service grocery stores sit on the fringes, independently owned Community Supermarket at Mechanicsville Turnpike and Cool Lane and the Market at Tobacco Row, a Farm Fresh outlet at 25th and East Main streets.