Manchester Courthouse renamed to honor Henry and Harold Marsh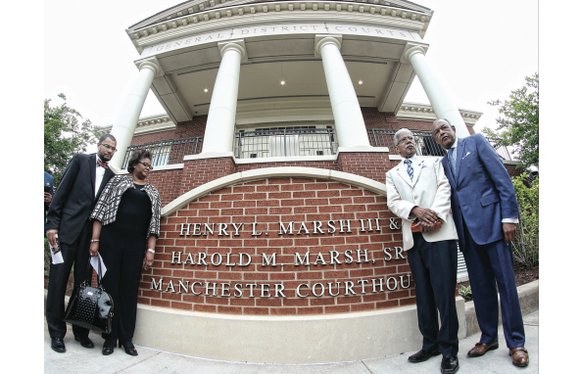 Civil rights was central to the law firm that Henry L. Marsh III organized with the late legal giants Oliver W. Hill Sr. and Samuel W. Tucker.
The firm spearheaded the fight to enforce the landmark 1954 Brown v. Board of Education decision banning segregated public schools by engaging in more than 50 suits against school districts.
Mr. Marsh, who was joined at the firm by his younger brother, the late Harold M. Marsh Sr., also battled racial discrimination in employment and successfully forced Virginia to adopt single-member legislative districts, opening the door to the election of more African-Americans to the General Assembly.
So when the courthouse at 920 Hull St. in Richmond's South Side formally was renamed last Friday the Henry L. Marsh III and Harold M. Marsh Sr. Manchester Courthouse, many in the audience nodded in agreement when Congressman Robert C. "Bobby" Scott called it fitting.
"It is fitting that a courthouse, a symbol of equal rights under the law, is being named for two brothers who spent their legal careers fighting for civil rights," Congressman Scott said. "Thank you for making this necessary."
More than 150 people attended the outdoor ceremony, including about 40 Marsh family members, an array of judges, state and local elected and appointed officials, candidates for office, former law firm staffers, friends and well-wishers.
Speakers praising the role the Marsh brothers played in shaping Richmond included U.S. District Court Judge Raymond A. Jackson of Norfolk, one of the 13 lawyers from the law firm who went on to become judges; Helivi L. Holland, president of the Old Dominion Bar Association; and Vernon E. Inge, president of the Richmond Bar Association.
With Judge D. Eugene Cheek Sr., the chief judge of Richmond General District Court, presiding, the ceremony was punctuated by lighthearted, but reflective remarks from Mr. Marsh, now 82, and poignant recollections by Harold Marsh's son, Harold Marsh Jr.
Harold Marsh was fatally shot in 1997 about a mile west of the renamed courthouse by an embittered defendant in an eviction case. For Harold Marsh Jr., who was joined at the podium by his sister, Dr. Erica Marsh, the ceremony was bittersweet. He and his sister, who now live in Chicago, had not returned to the courthouse since the trial of the man charged with killing their father.
He spoke of his father's commitment to the law and to helping others.
"He wasn't one to seek the spotlight. He only sought the work that needed to be done," he said.
While Harold Marsh served as a substitute judge and became well known as a mentor and supporter at Richmond's Thomas Jefferson High School long after his children graduated, Henry Marsh made a name for himself in politics, winning election to Richmond City Council in 1966. He became Richmond's first African-American mayor in 1977, with the backing of four council colleagues who help form the governing body's first African-American majority in the city's history.
After 25 years on City Council, Mr. Marsh won election to the state Senate in 1991. After winning re-election for several terms, he resigned in 2014 and accepted an appointment by Gov. Terry McAuliffe as a commissioner of the state Alcoholic Beverage Control Commission.
In his remarks, Mr. Marsh expressed gratitude to Mayor Dwight C. Jones and the City Council for naming the courthouse in his honor and that of his brother.
He cited his love of the city and having the support of others.
"I had the privilege of achieving several firsts in my civic and political careers, but … anyone who comes first is usually standing on the shoulders of others."
He also saluted his family, including his wife, Diane, and children, Nadine, Sonya and Dwayne, all of whom were present, and the unsung people who helped make the civil rights victories possible — those "who marched with us, voted with us, prayed for us and stood for us as we tried to change the scales of justice in the former capital of the Confederacy."
He recalled the point at which he determined to take part. He was living in Isle of Wight County with relatives following the death of his mother when he was 5.
His father, a hard-working man, could not afford to raise the four children, but kept working as a waiter until he could reunite the family years later.
Mr. Marsh returned to Richmond when he was 11.
While in Isle of Wight, he said he walked 5 miles to the one-room schoolhouse where one teacher worked with 78 students separated into seven grades.
He said he didn't mind the walk even in inclement weather, but he started noticing yellow school buses passing him. When he asked, he learned that the buses were carrying children to the bigger, better, whites-only public schools.
"It dawned on me at that time that this system isn't right," he said.
That thought later would propel him into a career through which he could foster change.
"Being honored with Harold, to share that privilege, is the highest honor I could ever receive," Mr. Marsh told the crowd.
When cadets from Franklin Military Academy removed the blue draping to show off the new brick sign bearing the courthouse's new name, Mr. Marsh murmured to Mayor Jones, "It looks pretty good."
Mayor Jones presented Mr. Marsh with a key to the city.