Personality: Clary W. Carleton
Spotlight on Richmond's 2017 Teacher of the Year
11/18/2016, 7:50 a.m.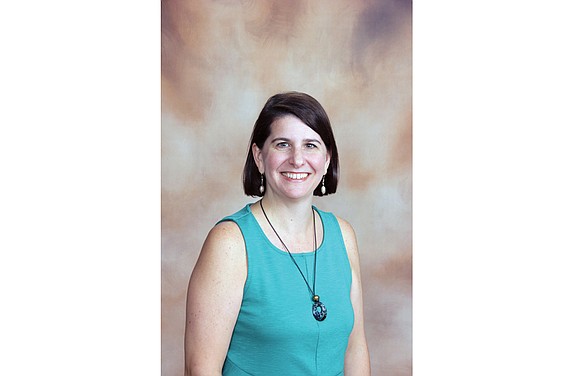 Clary W. Carleton, Richmond Public Schools 2017 Teacher of the Year, could be a prototype for encouraging students to use their spirit of protest productively.
Mrs. Carleton, an English teacher at Open High School, places top value on "the need for a more just society." She uses her extra time to coordinate field trips to theatrical venues throughout the city for her students and shares her love for literature and the arts.
The most powerful thing about being a teacher, she says, is building meaningful relationships and inspiring her students "to stretch themselves so they can reach their full potential."
Mrs. Carleton, who has been a teacher since 1999, was among several nominees for the award. She was recognized with the other nominees, during a Nov. 10 ceremony at a Downtown hotel.
As Richmond's 2017 Teacher of the Year, Mrs. Carleton received a $1,000 cash award, an iPad Air and a complimentary one-night stay at the Crowne Plaza Richmond Downtown hotel.
Wells Fargo, the program sponsor, provided cash awards to the top three finalists, as well as iPad Airs to the top 10 finalists.
"Teaching became something I felt called to do because I realized its centrality for individual and social progress," Mrs. Carleton says.  "I began to understand the transformative power of education."  
She adds, "I offer students a positive, safe and equitable environment where they are expected to reach toward their best selves and take intellectual risks."
Her teaching philosophy reads like a graduate level social science course and has been successful in helping her to inspire students. It encompasses three elements, she says: First, a commitment to democratic values and social justice. Second, an appreciation of adolescent intellectual potential as well as their social and emotional needs. And third, the belief that literacy is a path to wisdom and joy.
The biggest problem facing students today, she says, is social media.
"It can encourage constant comparison, a need for validation and incivility. Some students also seem to have shorter attention spans and a desire for immediate gratification — the antithesis of the learning process," she says. Her recommendation for students?
"We should all be able to unplug for extended periods of time without damage to our psyche."
Meet the Richmond Public Schools 2017 Teacher of the Year and this week's Personality, Clary Washington Carleton:
Date of birth: May 1968.
Current residence: Richmond.
Alma maters: Bachelor of arts, art history, George Mason University, 1990; master's, English literature, Virginia Commonwealth University, 1998; post-baccalaureate certificate, secondary education/English, VCU; post-master's certificate, educational leadership and policy studies,
University of Richmond, expected May 2017.
Family: Spouse, Lee Carleton, and children, Holden, 8, and Huxley Ann, 5.
I enjoy English because: I get to share my love of language and literature with others.
First teaching job: Midlothian High School in Chesterfield County.
First reaction to top teacher award news: Shock and awe.
How I got the news: At an awards ceremony on Nov. 10.
Why I became a teacher: I wanted to do something purposeful with my life that involved serving others. It was my initial education class at VCU that helped me see the real potential of public education to help individuals and society evolve.