6 Junior Girl Scouts receive coveted Scouting award
9/30/2016, 8:40 p.m.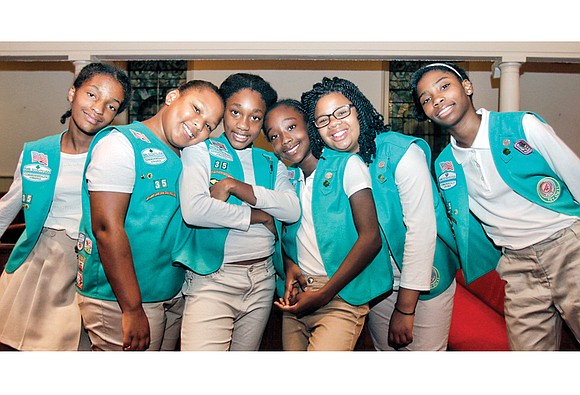 By Leah Hobbs
For the first time in the troop's history, six members of Girl Scout Troop 35 at Ebenezer Baptist Church have received the Girl Scout Bronze Award.
During a special ceremony Wednesday evening at the historic Jackson Ward church, Kameelah Hagues, McKenzie Johnson, Kayden Jones, Mycah McDowney, Wramsey Norris and Aliciya Simmons were presented the awards by Troop Leader Glennys Fleming.
The Bronze Award is the highest leadership award a Junior Girl Scout can achieve and signifies that the recipient has made a lasting difference in her community.
The Scouts were charged with planning and executing a project that would develop their leadership skills by working with team and community members.
They worked with the Historic Jackson Ward Association to create a video walking tour of Jackson Ward, which was once considered the "Harlem of the South" because of its vibrant African-American businesses, entertainment and religious entities in the late 19th and early 20th centuries.
The video is to be posted on the association's website to enhance its educational mission.
According to troop leaders, the girls exhibited strengths in producing the video in the areas of technology, communication, organization, problem solving and collaboration.
The leadership project also helped the Scouts to develop their natural talents.
"I am very proud of these girls because, as they worked through executing their project, they started to take ownership in what they were creating," Ms. Fleming said. "They became leaders and team players to get the job done. They got the essence of leadership and teamwork. This was a success for them beyond earning their well-deserved awards."
In working on the project, the girls learned about the mission of the Historic Jackson Ward Association and its neighborhood priorities. The association is committed to developing awareness of history, preserving a significant Richmond neighborhood and integrating its history into the modern day experience.
"These girls invested more than 150 collective 'girl hours' working as a team to discover important facts about Jackson Ward while creating, developing, planning and executing their leadership award project," said Viola O. Baskerville, the former CEO of the Girl Scouts of the Commonwealth of Virginia and a former state secretary of administration for former Gov. Tim Kaine, who assisted the troop.






"I am very proud of the work they have done."
By completing this project, each of the Scouts has fulfilled the mission of Girl Scouting — to build girls of courage, confidence and character who make the world a better place, troop leaders said. Each of them have grown into their best selves, become more focused and a better team player, the leaders said.
"It is important that these girls see themselves as leaders and that they are given the opportunity to have their natural talents and skills developed so that they can be prepared to take future positions of leadership in an increasingly diverse society," Ms. Baskerville said.
The troop's Junior Scouts are fourth- and fifth-graders who come from different areas of the city. Several will move to the next level of Scouting for the 2016-17 membership year where they will set new goals. They can elect a traditional path of earning specific badges or they can select a camping path, a STEAM (science, technology, engineering, arts or math) focus or another focus within the Girl Scout program.
Troop 35 leaders hope this is the start of a new tradition for the Scouts at Ebenezer Baptist Church. They want to see their Junior Girl Scouts develop a history of earning the Bronze Award.
"Girl Scouting provides so many opportunities for girls to develop resilience, confidence, character and values within a secure, safe and supporting environment. This is key to success in the larger world," Ms. Baskerville said.
Troop 35 is celebrating its 80th anniversary. It was established in 1936 through the efforts of a group of women who had a vision of organizing a troop at the Jackson Ward church.
Through the years, troop members have come from the church and the wider community.
In addition to the Junior Girl Scouts, Ebenezer Baptist Church is home to Troop 415 for kindergarteners through third-graders and Troop 34 for girls in sixth through 12th grades.
For information on the troop, including membership info, contact Ms. Fleming at ebcgirlscouttroops@gmail.com or (804) 300-4942.