Scout leaders step down after more than 50 years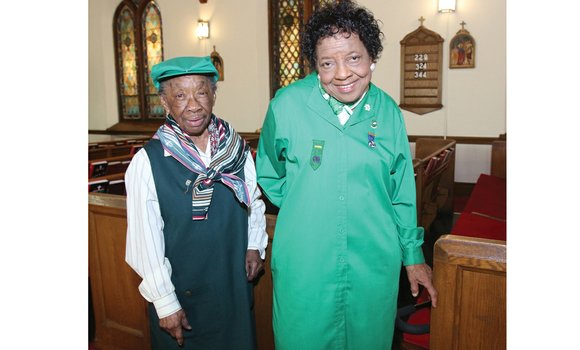 Gladys Lewis and Anna Washington have faithfully led the Girl Scouts troop at their church, St. Philip's Episcopal Church on North Side, for more than 50 years.
Through their selfless service, the Richmond residents have helped hundreds of young girls fulfill their scouting dreams.
They will officially step down as troop leaders Sunday, March 13, the day they are to be honored in a 10:30 a.m. ceremony at the church at 2900 Hanes Ave.
St. Philip's rector, the Rev. Phoebe Roaf, said it's a well-deserved honor.
"They have left a legacy that will continue to affect the women of the metropolitan Richmond area for decades to come," she said. "It's difficult to quantify the impact of more than 50 years of service to young girls and teenagers.
"These two women joyfully and faithfully gave of themselves to create a nurturing environment for others," she added. "Their dedicated, quiet service provides a model for all of us to emulate."
Jacquelyne Bradley, a retired employee of the Richmond Department of Social Services, was a Girl Scout in the 1960s under the women's guidance.
"I can't even begin to relate what they did and what they meant to us," she said. "They were great leaders. They worked with the girls so much to help develop them into wonderful young ladies.
"They will always be remembered as pioneers in scouting," she added. "They were wonderful leaders, sacrificing their time with so many girls through the years. They've done this religiously with no pay."
Ms. Lewis, who is 93, said she felt compelled to serve as the scout leader at St. Philip's after her daughter, Zanette, came home one night and told her their troop leader was stepping down.
"I went to a scout meeting and they told me I had to get training to become the troop leader, so that's what I did," she told the Free Press.
"Then, I was talking with (Ms. Washington) and told her what I was going to do, and she said she would help me," Ms. Lewis added.
Ms. Washington, who didn't want to offer her age, said she became involved because "I wanted to help other girls and I wanted to give service to the community."
Thus began their storied journey together as scout leaders.
They began at the height of segregation and attended separate summer camps from the white scout troops. They also were forced to use a lot of second-hand materials to conduct their meetings.
"We didn't have to teach the girls about racism," Ms. Lewis said. "They lived it every day of their lives."
Undeterred, they led their troops at St. Philip's, from the youngest Brownies, to the Juniors, to the oldest girls, who were Cadettes and Seniors.
In their time as leaders, they have taken scores of girls on camping trips, attended summer camp together, marched in parades, performed countless hours of community service and helped the girls earn merit badges.
It's been a labor of love for the two women.
"We wanted the girls to learn who they are and what they are capable of being," Ms. Lewis, a retired librarian, said.
"We wanted to build the girls' courage and confidence in who they are and let them know that they are special people."
Ms. Washington, a retired teacher, said, "Children have always been a part of my life. I wanted to see them grow up to be good citizens, be good leaders and be faithful to their God."
The women said they take a special delight when they see their former scouts are now doctors, attorneys, educators and community leaders.
"It's been something I'll always cherish," Ms. Lewis said.
"We are so thankful that we've had the opportunity to do this," Ms. Washington added. ""When we see the young girls go on to lead successful lives, we know our lives have not been in vain."
For more information on the ceremony to honor the scout leaders, call the St. Philip's office at (804) 321-1266.