Dr. King's daughter urges people to rise above anger with Trump administration
4/8/2017, 7:42 a.m.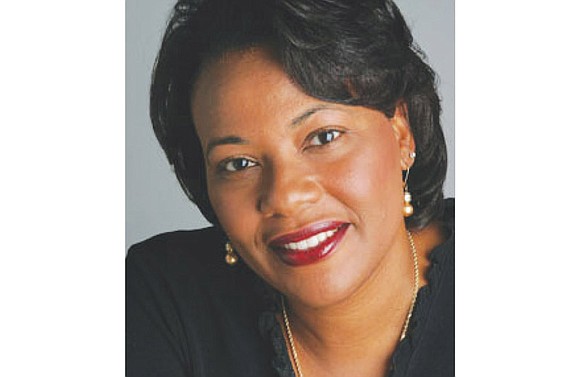 By Barrington M. Salmon
TriceEdney News Wire
WASHINGTON
The Rev. Bernice A. King electrified an audience of men and women at the National Press Club, challenging them to rise above bickering with people with whom they may have political and cultural disagreements and find common ground — including President Trump.
In her speech "What Does the Black Lives Matter Movement and Trump Have in Common?" on March 31 closing Women's History Month, she focused on the reality of the anger and animus on one side and the disgust, concern and fear of President Trump on the other.
She said the way to move forward is to find common ground — though members of a panel later rejected her point of view.
"We need people to rise above it and engage in conversation, real conversation," Rev. King advised. "We're not hearing each other right now because we're not listening. We're trying to react to what is said. We have to realize that that individual (with whom we disagree) is still of value. We have to win over people. The next generation is watching us for cues.
"We must listen and hear even though we don't want to," she continued. "We should not be drawing the line, unfriending people on Facebook, disconnecting links on LinkedIn or dragging them on Twitter. We must resist separation in the face of difference. We must love unconditionally…"
The chief executive officer of the King Center in Atlanta, Dr. King was the keynote speaker at the 7th Annual Stateswoman for Justice Luncheon and Issues Forum sponsored by the TriceEdney News Wire.
The event, which also celebrated the 190th anniversary of the Black Press, drew about 200 men and women to the National Press Club in Washington.
The youngest daughter of Dr. Martin Luther King Jr. and Coretta Scott King caused a stir and murmurs in the crowd as she prefaced her remarks by warning the packed ballroom that her comments about Black Lives Matter and President Trump might cause some discomfort.
"Now I'm going to say some things that might be a little different and controversial," she said with a wry smile. "I'm pushing the envelope. What do they have in common? They have awakened in us deep down divisions that, in many respects, we have tried to avoid, ignore, deny. I don't know about you, but I'm very concerned about that."
The Spelman College graduate who has a law degree from Emory University went on to say that "there's a deep polarization that exists in our nation and in fact, it's potentially getting worse.
"Dr. King tried to teach us how to live in a world and co-exist with all of these different ideologies," she said. "What he left is an important blueprint that we cannot escape if we're going to create a just, equitable world. He gave us plans and a strategy: Chaos or community."
She offered African-Americans four policy and moral prescriptions to pursue if they hope to achieve the justice and equality for which her father fought and died: