Eliezer Zambrano opens 8th season April 6 with Flying Squirrels
Fred Jeter | 4/8/2017, 9:40 a.m.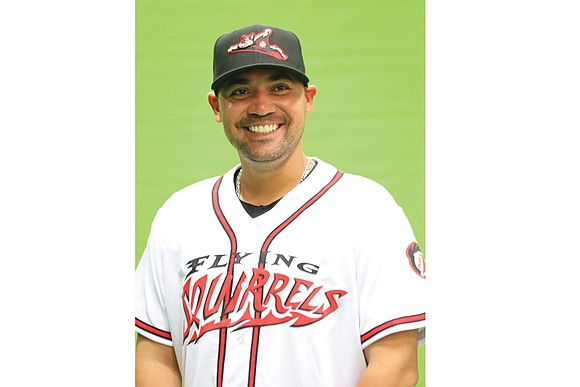 Eliezer Zambrano has become as much a part of Richmond's baseball scene as peanuts, Cracker Jacks and fireworks lighting up the night above The Diamond.
The 30-year-old, switch-hitting catcher from San Diego, Venezuela, begins his eighth season with the Richmond Flying Squirrels on Thursday, April 6, in the season opener against Hartford, Conn.
Asked of the difference between this season and his rookie season in Richmond in 2010, he said, "I feel a little older."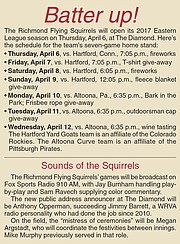 Zambrano goes by "Z" to teammates and has been billed as "the original Squirrel" by team General Manager Todd "Parney" Parnell.
"I love the guy," Parnell told the Free Press this week. "I love his spirit as both a player and a person."
In addition to his role on the field, Zambrano has been the most active Flying Squirrel behind the scenes.
A year ago, he was awarded the franchise's Community Service Award for making outreach appearances around town and especially for working with youth groups.
"I was a kid, too, once," he said, flashing his signature Hollywood smile.
Asked about how many community outings Zambrano has volunteered for, Parnell said "countless."
Although plans can always change abruptly for a minor leaguer, Zambrano plans on spending this spring and summer living in the Short Pump area with his wife, Tamy, and 3-year-old daughter, Anarella.
"They always come with me," he said.
In fact, Anarella is this year's "Miss July" on the Flying Squirrels scheduling calendar, where the youngster is pictured with "Nutzy," the team mascot.
"Anarella loves Nutzy," said the proud father.
In seven previous seasons, Zambrano has gotten to know the Richmond area, especially the restaurant scene.
"Lots of good places to eat — Colombian, Dominican, Mexican," he said.
Asked for a favorite, he said Chicken Fiesta, a chain restaurant where the rotisserie chicken and rice keeps him coming back.
Zambrano feels he still has a chance to advance to the Class AAA Fresno Grizzlies in California or even to the Flying Squirrels' parent San Francisco Giants, which he first signed with as a teenager in 2005.
"As long as you are wearing a uniform, you always have the chance to go up," he said. "I'm just a couple of steps away."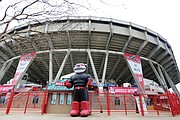 Normally, Zambrano plays winter ball in his native Venezuela. This past offseason, however, he played for San Francisco's fall league team in Arizona. 
Zambrano figures to open this season as backup catcher to Matt Winn, the former J.R. Tucker High School and Virginia Military Institute standout.
Zambrano's value to the Flying Squirrels extends beyond his hitting and fielding skills.
Speaking Spanish provides a huge advantage in counseling the team's young pitching staff.
Richmond will open the season with four pitchers from the Caribbean who speak Spanish as their first language.
The ability to communicate with everyone also makes Zambrano a prime candidate to become a coach or manager himself once he hangs up his catcher's mitt.
"Z is a complete person — family man, ballplayer, great citizen" said Parnell. "Our life gets happier and better every day when he walks through the clubhouse door."