Richmond Flying Squirrels to unveil 'Funnville' at April 13 opening
2/2/2018, 6:42 a.m.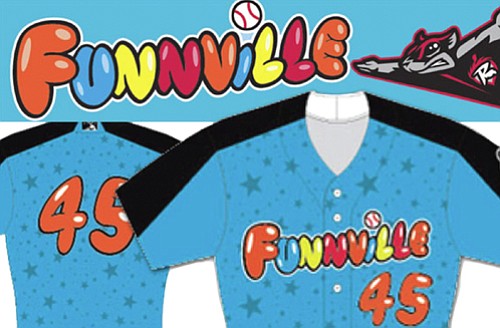 The Richmond Flying Squirrels generally lead the Eastern League in attendance, and it is no secret why.
Since arriving at The Diamond on the Boulevard in Richmond in 2010, the Squirrels management has continued to upgrade the overall fan experience, especially for children.
The upcoming season figures to be no exception with the addition of "Funnville," which will be unveiled on opening night, Friday, April 13, when the Squirrels play the Trenton Thunder at The Diamond.
"Funnville" starts with a 60 foot-by-24 foot inflatable arch for customers to walk under en route from the parking lot to the baseball stadium.
"One of the main words we have built this brand around is fun," said Todd "Parney" Parnell, the Squirrels' vice president and chief operating officer. "So it is appropriate we deem this place and everything we do 'Funnville.' "
Squirrels fans don't base their attendance on the team's win-lost record. Richmond averaged 6,034 fans per game last season despite finishing with a 63-77 record, making the team fifth out of six teams in the EL's Western Division.
Other Funnville features will include logos displayed throughout the park, food and clothing items and specialized Funnville uniforms the Squirrels will wear on Sundays.
Management also is offering a free emoji keyboard available for download featuring the Squirrels' mascots Nutzy and Nutasha.
Other updates involving the San Francisco Giants' Class AA affiliate:
The Flying Squirrels are adding extended backstop netting, stretching from dugout to dugout, for fan safety. The team also is adding a padded outfield fence for player safety.
There will be a major upgrade to the sound system.
Management will continue to offer elaborate fireworks displays following every Saturday night game.
Throwing out the first pitch on opening night will be former big league slugger Fred "Crime Dog" McGriff.
The first baseman was a five-team All-Star and enjoyed one his best seasons in 1993 when helping the Atlanta Braves, the parent team of the then-Richmond Braves, to a World Series title.
During his career, the left-handed McGriff accumulated 493 home runs and 1,550 RBIs.
Opening night tickets go on sale 10 a.m. Saturday, March 3, at The Diamond during Nutzy's Block Party & Fan Fest.
Opening night has been a sellout for the last eight seasons.