A federal case
U.S. Dept. of Education's Office for Civil Rights to investigate unequal discipline in Richmond Public Schools
4/20/2017, 10:42 p.m.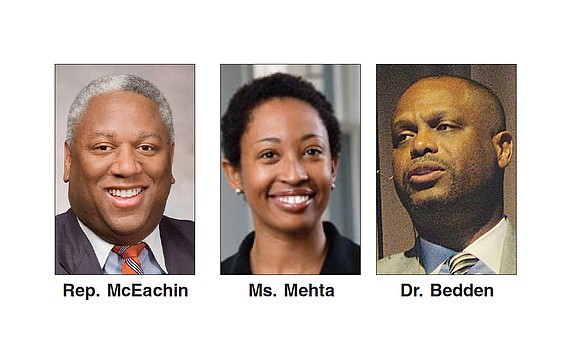 By Holly Rodriguez
The pursuit of justice for two Richmond Public Schools students has resulted in a federal investigation of the school district's disparity in disciplinary procedures for African-American students and students with disabilities.
According to the Virginia Department of Education data for the 2014-2015 school year, African-American students with disabilities attending RPS were 12.91 times more likely than white students without disabilities to be put on short-term suspension.
The Legal Aid Justice Center and the American Civil Liberties Union of Virginia announced on Monday that the U.S. Department of Education's Office for Civil Rights would investigate claims outlined in a 28-page complaint filed by the organizations in August 2016.
The Richmond Branch NAACP also is a partner in the complaint.
"We had two students interested in moving forward with the investigation and our hope is that we will get to the root cause of this," said Leslie C. Mehta, legal director of the Virginia ACLU.
"We are hoping this is a step toward eradicating the school-to-prison pipeline and ensuring equal access to education for all students."
State Education Department data indicates that during the 2014-15 school year, African-American students made up about 76 percent of the total student population in Richmond Public Schools, but were issued 93 percent of short-term suspensions under 10 days, 98 percent of long-term suspensions of 10 days or longer and 97 percent of expulsions.
Students with disabilities made up 16 percent of the RPS student population, but were issued 31 percent of short-term suspensions, 30 percent of long-term suspensions and 63 percent of expulsions.
"I'm not sure where the breakdown in the system is. That is why I called for an investigation," said Congressman A. Donald McEachin of Henrico, who represents Richmond and surrounding counties in the 4th Congressional District.
In late March, Rep. McEachin sent a letter to U.S. Secretary of Education Betsy DeVos calling for an investigation into the "unfair, unwarranted disparities" in punishment of African-American students, particularly those with disabilities, that he said "are completely unacceptable."
"We need answers soon for the sake of our children," he said Wednesday.
RPS Superintendent Dana T. Bedden said in a statement Wednesday, "We are very concerned and focused on the disproportionate disciplinary actions as well the representation of African-Americans identified for special education."
While the statement didn't address the federal investigation, he went on to outline steps the school system is taking to change the culture, including additional training for staff and additional support from the state Department of Education.
Richmond School Board Chairman Dawn Page did not return a call and email for comment.
In the 2016 complaint, Richmond Public Schools was described as "one of the lowest-performing school divisions in the Commonwealth."
Of the 132 public school divisions in Virginia, RPS had the highest dropout rate, tied with three other divisions for the lowest high school attendance rate and had the lowest pass rate on Standards of Learning tests in writing during the 2014-15 academic year.
Richmond's disciplinary procedures were excessive, according to the complaint, and disproportionately targeted African-American students and students with disabilities.