Lecture on native artist Benjamin Wigfall set for April 28
4/21/2017, 6:55 a.m.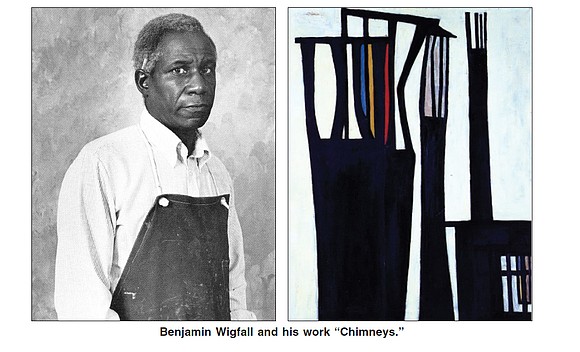 By Holly Rodriguez
When Benjamin Wigfall was a high school student in Richmond, his view as he walked from 27th Street in Church Hill each morning to Armstrong High School included smoke billowing from the chimneys of industrial buildings.
Former Gov. L. Douglas Wilder, the friend and fellow student who walked with Mr. Wigfall each day, joked recently that he never saw what Mr. Wigfall depicted in his painting, "Chimneys."
The painting was acquired by the Virginia Museum of Fine Arts in 1951. At the time, Mr. Wigfall was 21 and the youngest artist whose work was acquired by the publicly funded museum. "Mr. Wigfall's work was identified as having strong promise," said Sarah Eckhardt, associate curator of modern and contemporary art at the VMFA.
The museum is hosting a lecture about Mr. Wigfall and his work in the community where he grew up.
"VMFA Celebrates the Life and Work of Benjamin Wigfall" will be held 6 p.m. Friday, April 28, in the Robinson Theater Community Arts Center, 2903 Q St.
Videos of interviews with Mr. Wigfall in 2003 and 2016 will be shown and Dr. Eckhardt and Linda J. Holmes, a writer, independent scholar and curator, will talk about the artist's work and impact.
The event is free and open to the public.
Mr. Wigfall died in February at age 87. Members of his family are expected to attend the lecture.
In the videos, Mr. Wigfall discusses growing up in segregated Richmond, his studies at VMFA and his experiences as a Hampton University undergraduate student and professor.
After earning a master's in fine arts from Yale, he returned to Hampton University as an art professor until 1963.
As a young professor, he was arrested outside the Miller & Rhoads department store for suspicion of shoplifting in 1957. Hampton University's student newspaper cited the incident and the irony that his VMFA piece, "Chimneys," was on display in the department store at the time of his arrest.
Mr. Wigfall was represented in the case by noted civil rights lawyer Oliver W. Hill Sr. and the charges later were dropped.
Mr. Wigfall moved in 1963 to New York, where he taught art at SUNY-New Plats for nearly 30 years. He also owned Watermark Cargo Gallery, training young people in the neighborhood to help him renovate the building for the gallery. Later, he began to teach them screen printing, an art form he was introduced to while studying at the VMFA.
The museum later acquired another painting by Mr. Wigfall, "Corrosion and Blue," in 1958, and also has two Christmas cards he created.