16-year-old Frank Royal III winning long jump titles
Fred Jeter | 4/28/2017, 12:48 p.m.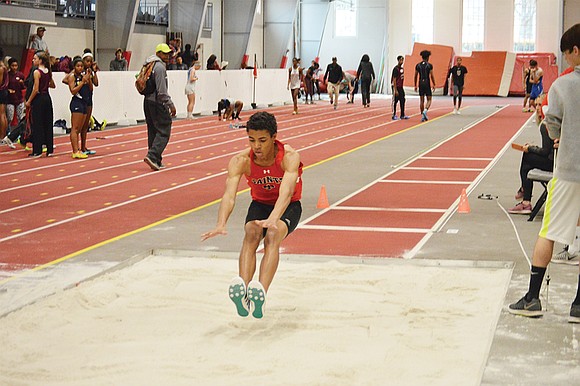 Frank Royal III never showed much interest in athletics until being introduced to the long jump pit as a St. Christopher's School sixth-grader.
You might say it was love at first flight.
Now, as a Saints 16-year-old sophomore, Royal has leapt smack dab into the conversation regarding the best jumpers in Virginia.
"Frank has found his passion," said St. Christopher's track Coach Marshall Ware. "He's the real deal."
In February, Royal won the State Prep League indoor title with a distance of 22-5¾.
The ultra-lean, 6-foot-1, 145-pound Royal also placed second at the State Independent Schools meet with a 22-9½ jump. That head-turning distance is just off the West End school's career indoor mark of 22-9¾ set by Ben Katz in 2009.
Outdoors, Royal, who answers to "Frank the Tank," is hot on the heels of Saints record holder Brandon Thomas, now a Virginia Tech freshman, who jumped 23-5½ in 2016.
Also outdoors this spring, Royal has emerged as a threat in the 100-meter and 200-meter competition and races a leg on the Saints' highly competitive 4x100 meter relay.
In a five-school St. Christopher's Invitational earlier this year, Royal won the 100- and 200-meter sprints with personal bests of 11.44 seconds and 22.76, respectively.
He also is dabbling in the triple jump.
His quickly blooming career in shorts and spikes can be traced to an introduction to track and field course linked to the school's physical education department.
"We had a competition (in the course) and I did about 15 feet (in the long jump). It was good enough to win by about a quarter of an inch," Royal recalled.
A spark was lit.
"That's what got me going," he said.
The talented son of Dr. Frank Royal Jr., executive vice dean for academic affiliations at Meharry Medical College in Nashville, and Dr. Erica Madloch Royal has been taking off and landing in sand pits ever since, with ever increasing distances.
"It keeps going up — 18 feet, 19, 20, 21," he said. "One of my goals this spring is to qualify for the New Balance Nationals (in Charlotte) and maybe go about 23-5."
Until going "all in" for track and field, Royal shied away from athletics.
"I didn't watch much sports on TV. I was more into sitting in my room, playing with toys and playing video games. I love video games," he said.
At his father's insistence, he played one season of football in the third grade.
"It didn't go well," Royal recalled.
Basketball, baseball and soccer never interested him much either.
"I found my niche with the track," he said, adding that he hopes in a few years to compete on the NCAA Division I level.
Eventually, he expects the long jump and a longer running distance — possibly the 400 meters — will be his ticket to the college level.
His older sister, Erica, starred in field hockey at St. Catherine's and a younger brother, Colin, also shows potential in St. Christopher's track.
Even now with his growing athletic résumé, Royal said he identifies "more with the bookworms" than the jocks and doesn't hesitate to label himself "a nerd."
"I'm really into my comic books," he said.
At the rate he's advancing, Royal might wind up a superhero himself. Only in his case, it would be a true story.