George Mason Elementary to stay open with repairs
8/11/2017, 11:20 a.m.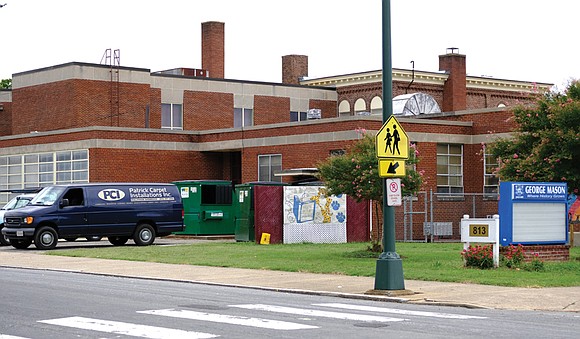 By Holly Rodriguez
George Mason Elementary School's students, teachers and staff are staying put for the 2017-18 school year.
The Richmond School Board voted Monday night to back Interim Superintendent Thomas Kranz's recommendation to make repairs at the Church Hill building that is more than 100 years old.
He insisted that while its not an ideal environment, the school is safe. He also said a new school needs to be built.
"The administration takes very seriously the safety of school buildings," he told the board. "No one — no one — on the facilities team or in the administration would say that George Mason is an ideal school building."
Mr. Kranz's recommendation, one of several options presented at a community meeting at the school on July 31, would include $105,000 for some renovations, mechanical repairs, installation of an exhaust system and deep cleaning and painting of restrooms.
He also proposed — and the School Board accepted — monthly indoor air quality tests of the building.
School Board member Jonathan Young, 4th District, proposed moving George Mason students to Franklin Military Academy, and moving Franklin students to Richmond Community High School.
But Mr. Kranz said "the timing is difficult to do by Sept. 5," when classes start.
The two-year process to plan and build a new school could be started immediately, he said, but funding is needed.
Hope Talley, a fourth-grade teacher at George Mason, told the Free Press that repairs started after the July 31 public meeting at the school, leading the staff to deduce that the students would not be moved. She said she and her colleagues went into Monday night's meeting wanting a firm date for when a new school would be built, which was not given.
A new George Mason Elementary School "is our No. 1 priority when we get the funds," she said. "Building can start tomorrow if we had the money."
She said Mr. Kranz's repair plan is another expensive Band-Aid.
The problems at George Mason Elementary are not isolated, Mr. Kranz told the School Board, warning that a "piecemeal" approach would come with a hefty price tag of $700 million to repair all Richmond Public Schools buildings.
"A number of schools … will require a comprehensive plan, dependent upon funds that are possible," he said.
School Board Chairwoman Dawn Page, 8th District, said RPS has facilities plans for all schools dating back 20 years, but with no funding, the plans cannot be executed.
"We know the needs of our buildings and that there is a direct correlation to learning," she said. "When will this city make education a priority? Our kids deserve better … we need to demand better."
Board member Linda Owen, 9th District, agreed.
"Our city has neglected schools and now we are feeling the whirlwind," she said.
Board member Cindy Menz-Erb, 3rd District, made a motion to have a committee and the RPS administration review and update the School Board's most recent approved facilities plan, with George Mason Elementary as a priority school when considering how best to resolve facilities issues for the 2018-19 school year.
Ms. Page advised that the review committee should include RPS staff "because, ultimately, they will be implementing the plan."
Her motion was approved on a 7-1 vote. Mr. Young voted against the measure and School Board member Liz Doerr, 1st District, abstained.
A comprehensive plan for all RPS schools is expected from Mr. Kranz at the School Board's Oct. 16 meeting.