School Board eyeing reallocating $10M for school repairs
Ronald E. Carrington | 7/23/2018, 11:51 a.m.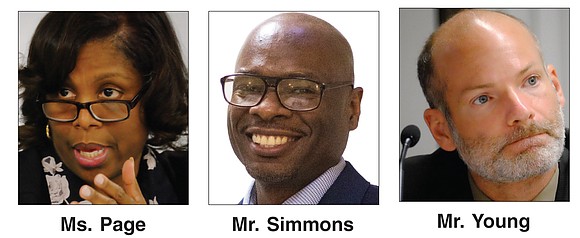 Richmond Public Schools officials want to reallocate $10.1 million to make acute emergency repairs to school buildings across the city.
At Monday night's meeting of the Richmond School Board, Darin Simmons Jr., RPS' chief operating officer, recommended redirecting toward repairs a little more than $13 million from the school system's architectural and engineering account that was set up several years ago for the construction of new schools.
Under the plan, $10 million would be used to replace roofs, heating and air conditioning systems, windows and broken facades at 17 city schools, the Richmond Technical Center, the Richmond Alternative School and the Arthur Ashe Jr. Athletic Center, with $3 million set aside for emergencies.
Excluded from the list are George Mason and E.S.H. Greene elementary schools, Elkhardt-Thompson Middle School and George Wythe High School, which school officials said was deliberate because they are slated for replacement.
However, as critical as school officials noted the repairs to be, nothing can happen until the School Board votes to move the money and Richmond City Council endorses the plan to reallocate the funds for school maintenance.
Despite the nine-member board having a quorum at Monday's meeting, the board decided to put off a vote until its Aug. 6 meeting. City Council is not scheduled to meet again after its July 23 meeting until September.
School Board member Jonathan Young, 4th District, said in a Free Press interview Wednesday that once approval is given to move the money, work could start on the slate of projects in late fall or perhaps during students' December break.
Earlier this year, City Council allocated $1.6 million for school maintenance, which is far less than the $30 million RPS requested.
The $10 million for repairs would come from funds set aside to design new schools. But officials said the new Mason, Greene and Elkhardt-Thompson schools would rely on repurposed designs from existing schools, saving money on design costs and would be paid from the $150 million expected for the project.
Officials have said there is no money allocated yet for replacing George Wythe High.
School Board Chair Dawn Page, 8th District, and Mr. Young signaled their support for the plan to make critical repairs to the city's sorely dilapidated schools.
"This is a result of years and years of neglected facilities repairs," Ms. Page told the Free Press. "We need to make sure that our children are educated in an environment that is safe and conducive for learning."
Mr. Young said he endorses the repair plan, but believes the board and school administration need to review whether a new high school is needed before construction starts on a new George Wythe High.
He said there are "so many vacant seats at existing high schools," which he said can increase their enrollment and eliminate plans and the cost of building a new school.
"It makes a lot of sense to use the $10 million to address some of the recurring problems we have in our buildings," Mr. Young said.
But board Vice Chairman Patrick Sapini, 5th District, expressed concern about using the $10 million for repairs rather than toward replacing George Wythe High.