New VUU president
Dr. Hakim J. Lucas of Bethune-Cookman tapped as school's 13th president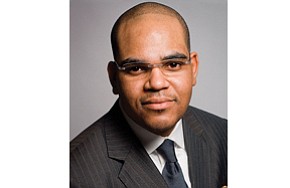 They've been rivals forever, but Virginia Union and Virginia State universities soon will have one thing in common — a first-time president with executive credentials honed at Bethune-Cookman University in Florida.
Twenty months after VSU hired Bethune-Cookman Provost Makola M. Abdullah as its 14th president, VUU announced that the Florida university's chief fundraiser, Dr. Hakim J. Lucas, would become its 13th president, effective Sept. 1.
Dr. Lucas' appointment was announced Tuesday by Dr. W. Franklyn Richardson, VUU's board chairman, following a 14-month search to replace former President Claude G. Perkins, who stepped down in June 2016, first taking a sabbatical and then retiring.

Dr. Joseph F. Johnson has served as acting president since Dr. Perkins' departure.
"Throughout the search process, Dr. Lucas impressed the committee with his clear vision for liberal arts education and for creating an enhanced student experience," stated Dr. Richardson, a VUU alumnus who leads Grace Baptist Church in Mount Vernon, N.Y., and chairs the National Action Network and the Conference of National Black Churches.
"He is an energetic and wise leader, and we believe that he will serve Virginia Union University well."
Dr. Lucas said he was "honored to have this opportunity" to serve as president at a "distinguished university with a rich history of academic excellence. I look forward to joining the dedicated administrators, faculty and staff as we continue to make a difference in the academic life of students."
The university stated that Dr. Lucas has nearly two decades of experience in higher education in the areas of fundraising, strategic planning and the engagement and retention of students at historically black colleges and universities.
For the last five years, he has served as Bethune-Cookman University's vice president for institutional advancement, including three years during Dr. Abdullah's tenure as provost.
Since taking over Bethune-Cookman's advancement portfolio in 2012, Dr. Lucas reportedly boosted giving to the school by 30 percent and increased the endowment by 53 percent.
He also enabled the private school to receive millions of dollars in state funding for new academic programs, including its Center for Entrepreneurship and Economic Development.
He also was involved in helping the university receive $45 million in research grants.
Prior to Bethune-Cookman, Dr. Lucas held similar fundraising posts at the State University of New York-Old Westbury and at Medgar Evers College in Brooklyn, N.Y. He also previously served as a tenured lecturer and deputy chair of Medgar Evers College's Philosophy and Religion Department.

Dr. Lucas earned his undergraduate degree from Morehouse College in Atlanta, and later earned a master's degree in education from Tufts University in Massachusetts and a doctorate in education from Fordham University in New York. He also holds a master's of divinity degree from Union Theological Seminary in New York.