New VUU president to students: Support one another
9/29/2017, 6:27 a.m.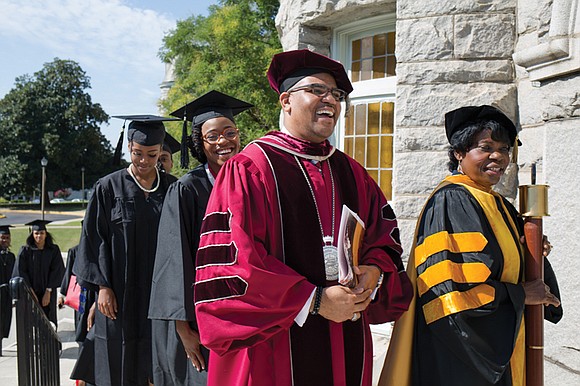 By Ronald E. Carrington
With bright sunlight streaming through stained-glass windows chronicling the 152-year history of Virginia Union University, Dr. Hakim Lucas, the university's new president, charged students "to support one another as the university's next chapter unfolds."
"No matter what we go through over the next eight months, God will provide," Dr. Lucas told more than 350 students, faculty, board of trustees members and supporters at the university's Fall Convocation on Sept. 21 in the Allix B. James Chapel at Coburn Hall on the campus.
Using the Baptist oratory tradition of call and response, Dr. Lucas told the Class of 2018, "No matter what challenge you face, God will provide. No matter what we deal with," he began, "God will provide," the class finished in unison.
The 40-year-old Dr. Lucas, who earned a master's of divinity from Union Theological Seminary in New York and a doctorate in education from Fordham University, became VUU's 13th president and chief executive officer on Sept. 1. For the last five years, he served as vice president for institutional advancement at Bethune-Cookman University in Florida.
In announcing his selection, VUU officials cited Dr. Lucas' extensive fundraising experience and efforts in student retention. Under his tenure at Bethune-Cookman, the endowment was increased by 53 percent.
He was lauded by his predecessor at VUU, Dr. Claude G. Perkins, who stepped down as president in June 2016, first taking a sabbatical before retiring. Dr. Joseph F. Johnson served as interim president until Dr. Lucas was named.
"I am delighted that we have a new young president to lead an institution like Virginia Union, which takes a tremendous amount of energy," Dr. Perkins told the convocation audience.
"It requires developing friends all over the community — businesses, the alumni, friends of the university — and an expanded view so that we can get various support from foundations from around the country," Dr. Perkins said.
Dr. Lucas embraces the challenge.
"I want my time with you to be a time when we can fulfill the promises of VUU in this generation," Dr. Lucas told the gathering. "There are things that those before us — over 150 years ago — have envisioned for us. There are things that God has a purpose for us. And I simply want to join with you in fulfilling it."
During the convocation, the university unveiled the official portrait of Dr. Perkins, which will hang in VUU's Claude G. Perkins Living and Learning Center named in honor of the former president.
"Dr. Perkins … laid a great foundation for VUU's continuing engagement," Dr. Lucas said. "It's all about academic excellence. We are building an intellectual community that's centered on innovation and creativity. VUU will empower entrepreneurship by revitalizing the black community by being an economic center."
Dr. Lucas' selection received high marks from students and faculty members.
"I think President Lucas is just awesome," said Dr. Gerard McShepard, chairman of the Department of Natural and Physical Sciences. "He's a man that is creating an environment where our students can learn, grow, develop and thrive. We will continue to know our students by name, not by a number."
He said he hopes Dr. Lucas will continue the infrastructure support for VUU's new chemistry, physics and biology labs begun under Dr. Perkins.
Students said Dr. Lucas has been accessible and open to conversations with students and faculty.
"Our new and enthusiastic president is going to be very promising for the university," said junior Maurice Neblett, a criminal justice major from Richmond. "I can't wait to see the changes he plans to put in place."
Rita Henderson talked about the university's history, evolving from Lumpkin's slave jail in Shockoe Bottom in 1865 to educating students who have gone on to make significant contributions locally and nationally.
"I'm hoping under Dr. Lucas that the school will evolve to the next level and continue that fine tradition, and that we will see more leaders that will grace the halls of VUU who go out and make their mark on the world."