Homegrown terror
The nation reacts to violence and murder in Charlottesville driven by white supremacists' attempts to protect Confederate statues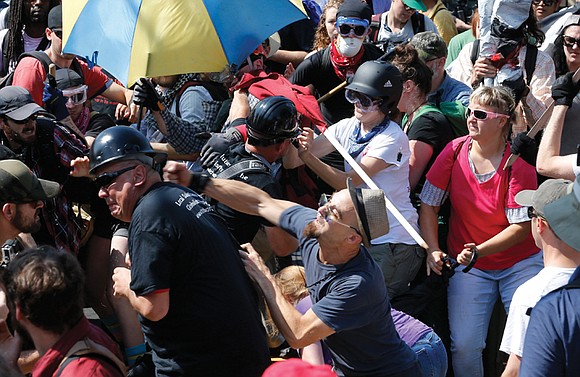 CHARLOTTESVILLE
Was the horror show in Charlottesville fresh evidence that overt racism remains an issue for our country?
Or is it a terrible, but ultimately small blip in a nation where the issue of race has dominated the past and remains a key issue today?
Such questions loom as graphic scenes scrolled across television, computer and cellphone screens showing white nationalists on a rampage last Friday and Saturday in Charlottesville.
The shocking images showed people affiliated with the racist groups beating counterprotestors with clubs and Confederate flag poles, pepper-spraying others, marching with torches and chanting Nazi slogans, and equality supporters lashing back in an often chaotic melee.
And then in the ultimate expression of rage, an angry 20-year-old Ohio man, who joined in the white supremacists' rally, deliberately drove his car into a crowd of people, killing 32-year-old paralegal Heather Heyer and injuring at least 19 others.
The man, James A. Fields Jr., is now jailed and facing second degree murder charges.
Two state troopers, Lt. Jay Cullen, 48, of Midlothian and Trooper Berke M.M. Bates of Quinton, also died Saturday when the helicopter they were flying to monitor the rally crashed and burned about 5 p.m.
The "Unite the Right" rally was called ostensibly to defend statues of Confederate generals — who fought to dismantle the country and protect slavery — that the Charlottesville City Council voted in April to take down.
The violence, which observers note was neither the largest nor the bloodiest political violence America has witnessed, had been anticipated. Yet it has created shockwaves that have raced across the country and slammed like a tsunami into the White House.
Even as organizers were claiming success and vowing to hold similar white supremacist rallies in other communities, the backlash was building steam. Counterdemonstrations and marches took place in 130 cities within hours and days, according to reports, including in Richmond.
The activities became rallying points to denounce white supremacy and mourn Ms. Heyer as a martyr to diversity and equality. On Sunday night, more than 200 people rallied at Abner Clay Park in Richmond's Jackson Ward and marched to the Monument Avenue statue of Gen. Robert E. Lee to condemn the Confederate symbolism that dominates this city.
New efforts emerged across the country to remove or destroy Confederate statues in response to Charlottesville. It was reminiscent of actions taken to remove the Confederate flag from the South Carolina statehouse and New Orleans removing its rebel statues after white supremacist Dylan Roof shot and killed nine people worshipping in a historic black church in Charleston, S.C., in an effort to start a race war.
This week, Baltimore led the way, putting pressure on a reluctant Richmond Mayor Levar M. Stoney to change position and direct a commission studying the city's Confederate monuments to consider their removal.
He issued his new statement hours after Baltimore Mayor Catherine Pugh, with the backing of the City Council there, quietly hired contractors to remove and haul away the city's four Confederate statues before daylight Wednesday.