KKK in Charlottesville outnumbered
Klan rally draws more than 1,000 counterprotesters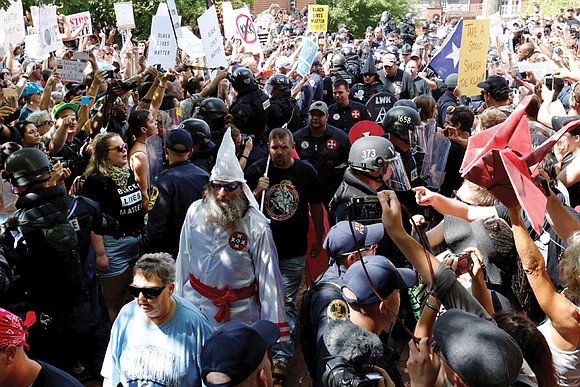 CHARLOTTESVILLE
More than 1,000 people turned out to shout down a group of Ku Klux Klan members last Saturday at a Charlottesville park where a few dozen hate group members and supporters waving Confederate flags and signs with anti-Semitic messages held a rally.
About 50 members of the Loyal White Knights of the KKK based in Pelham, N.C., were protesting the City Council's plan to remove statues of Confederate Gens. Robert E. Lee and Stonewell Jackson from public parks in Charlottesville.
Before the rally in Justice Park, the KKK stated they expected 80 to 100 armed members to attend.
The group was guarded by scores of police and outnumbered by hundreds of counterprotesters who waved signs denouncing racism. Anti-KKK protesters raised their voices in chants and shouts, drowning out speeches from the white supremacists.
In February, the Charlottesville City Council voted 3-2 to remove the statues from the parks, which have since been renamed from Jackson Park to Justice Park and Lee Park to Emancipation Park.
The council also has plans for a new memorial to replace the Lee statue to remember the city's enslaved population, according to reports.
The white supremacist group rallied for less than an hour before leaving. Counterprotesters followed them to a parking garage, where police told them to disperse for unlawful assembly.
Police and protesters headed back to the park where, a city spokeswoman said, frustration boiled over. Virginia State Police threw three tear gas containers to disperse the crowd.
While there were no reports of violence, 23 people were arrested and three people were taken to a hospital, two for heat and one for alcohol-related issues.
The KKK rally will not be the last in Charlottesville. On Aug. 12, a "Unite the Right Free Speech Rally" is planned by an alt-right group.