Personality: Carroll H. Ellis Jr.
Spotlight on geoscience educator at the MathScience Innovation Center
8/18/2017, 3:31 a.m.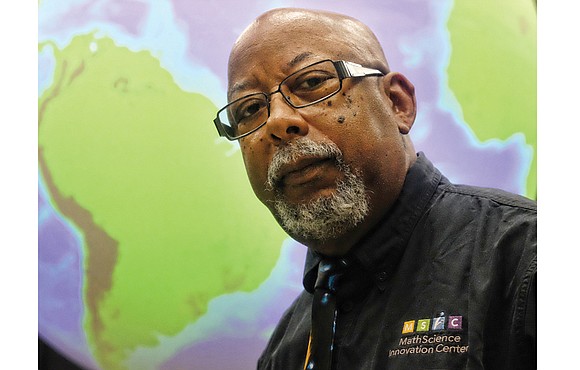 Mr. Ellis and a colleague will travel with their families to Casper, Wyo., to view the eclipse. He is taking cameras and telescopes to take pictures and will measure temperature changes during the eclipse to "observe luminosity and data to incorporate into our teaching."
"We're excited," he said. "We've been practicing." Meet this week's Personality and bona fide science guy, Carroll H. Ellis Jr.:
Occupation: Geoscience educator at the MathScience Innovation Center.
What I do: Teach science to K-12 students at the center and with teachers in classrooms. I also provide training for public schoolteachers.
Date and place of birth: May 15 in Richmond.
Current residence: Richmond.
Alma maters: Bachelor of science in geology from Virginia State University and a master's in geoscience from Mississippi State University.
Family: Wife of 38 years, Faye, and a son, Carroll Ellis III.
Teaching philosophy: I want students to pursue their education not solely for career opportunities, but for the love of learning. If they can go into science, that's even better.
Role of science in everyday life: Science is everywhere. It's in technology, engineering, electronics, cars, the way we cook food, medicine, nutrition and exercise. Our lives are consumed by it. It's hard to get away from.
Why I became a teacher: A friend approached me and suggested that I go into teaching. I tried it, liked it and went back to school.
How long I've been teaching: 31 years.
My favorite technique for piquing students' interest: Hands-on activities and labs in the classroom.
Every child should learn science because: It's the way our world exists. Science is a way of analyzing data and solving problems beyond science.
My plans for viewing the eclipse: I am going to Casper, Wyo., with a colleague and our families.
Why is this total eclipse important: Total eclipses are rare. This will be my second one. And if you are lucky enough to experience a total eclipse, there's nothing like it.
How I start my day: I watch a morning news show while doing my workout. I also check out science news of the day and what's going on with NASA.
A perfect day for me is: A teaching day, not an office day. Standing in front of students or teachers or being on a field trip is a good day for me.
If I had more time, I would: Start a blog or a YouTube channel as a resource for parents with information about places for students to go and resources to develop their interest in science. It also would be a resource for teachers.
Something I love to do that most people would never imagine: I had an R&B singing group, The Ebony Diamonds, that recorded a song in the 1970s that was never released. Two years ago, a UK record producer found the song and released "I'm So Lucky" as a vinyl single that sold for about six weeks in England, Germany and Denmark. It was my 15 minutes of fame.
Favorite scientist: Carl Sagan when I was younger; today, Neil deGrasse Tyson.
The person who influenced me the most: A teacher who is a deacon at my church and an amateur astronomer. He mentored 10 of us in the Science and Astronomy Club and later taught as an adjunct professor at Virginia State University.
Book authors who influenced me the most: Isaac Asimov and Carl Sagan.
What I'm reading now:"Astrophysics for People in a Hurry" by Neil deGrasse Tyson.
Next goal: Have fun using some of the science, videographer and voiceover skills I have in producing a science show or blog or website. That would be the next chapter once I leave the classroom.