Match or setup for rematch?
Mayweather-McGregor bout to generate big bucks
8/25/2017, 7:01 p.m.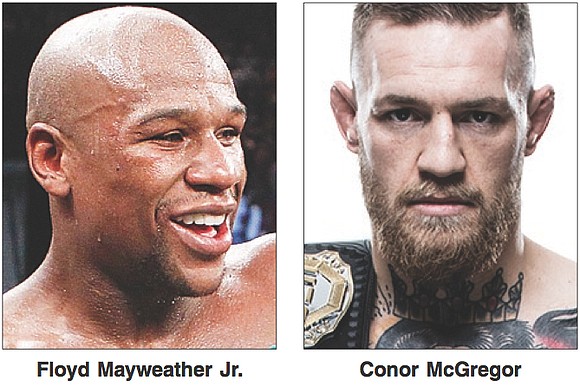 Cha-ching!
The Saturday, Aug. 26, blockbuster — Floyd Mayweather Jr. versus Conor McGregor — is advertised as the "Money Fight" for obvious reasons.
Undefeated boxer Mayweather is expected to earn more than $100 million, while Irish mixed martial arts champion McGregor is expected to take in about $75 million.
Precise figures remain fuzzy, however. Both fighters have signed non-disclosure agreement contracts that restrict divulging details.
The scheduled 12-rounder will be shown on Showtime Pay-Per-View live from the 20,000-seat T-Mobile Arena in Las Vegas.
The cost is about $90 for standard definition, $100 for high def. The opening bell of the main event isn't likely to ring before 11 p.m. Eastern time. Look for area restaurants and bars to be packed hours before the main event.
The widely anticipated spectacle is expected to challenge the all-time PPV boxing records for "buys" (an estimated 4.6 million) and revenue (estimated $400 million) set by the Mayweather-Manny Pacquiao "Fight of the Century" in May 2015.
Those attending in person Aug. 26 can expect to pay a minimum $1,900 for general admission, with tickets closer to the ring priced around $5,000. For the really big spenders, "platinum" ringside seats are $14,995.
Even at those outlandish prices, a sold-out crowd is anticipated. Organizers are optimistic that boxing's live gate record of $4.6 million for the Mayweather-Manny Pacquiao fight will be toppled. And all this for a "boxing match" that might best be described as an exhibition.
Mayweather, nicknamed "Money," is 49-0 and clearly among the elite pound-for-pound pugilists of all time.
McGregor is 21-3 in mixed martial arts under the UFC, Ultimate Fighting Championship, banner, but has never been in a pro boxing match.
For this encounter, the rules will be strictly boxing, conducted in a ring rather than an octagon, with three-minute rounds.
That means McGregor, aka "The Notorious," will be denied his best tactics —kicking, wrestling, choking, hitting the back of the head, on-the-canvas style called "ground 'n' pound," etc.
Odds makers have Mayweather as a 9-1 favorite.
Cynics suggest that if the fight is close at all, it will be choreographed to create a lucrative rematch.
Mayweather has every imaginable advantage in his corner regarding physical skill, experience and savvy — as well as the advantage of battling on home turf.
Since none of the opponents in his previous 49 matches — all well-trained boxers — haven't been able to get the best of him, it is unimaginable a "brawler" with no boxing background will stand a chance. Few expect the bout to go anywhere near the distance.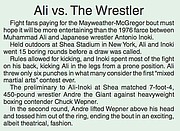 For those groping for an upset scenario, the Irishman is younger (28 to 40) and has a 2-inch reach advantage (74 inches to 72 inches) than Mayweather. McGregor is a true warrior and as rough and tough as they come. But there's an old saying in boxing —"They're all tough 'til they heard the birds chirping."
Also, the Nevada State Athletic Commission has authorized 8-ounce gloves instead of the customary 10-ounce style used in this weight class (154 pound max).
The less padded gloves add slightly to McGregor's slim chances of dropping — or maiming — Mayweather with a single blow, or flurry of power punches.       
Regardless of the Vegas outcome, McGregor figures to return to the UFC as its No. 1 attraction.
The flamboyant Mayweather has been talking retirement for years, but keeps coming back for more. 
It just goes to show, the rocking chair can always wait if the money is right.