Mayweather chooses 'right dance partner' for final fight
9/1/2017, 9:43 a.m.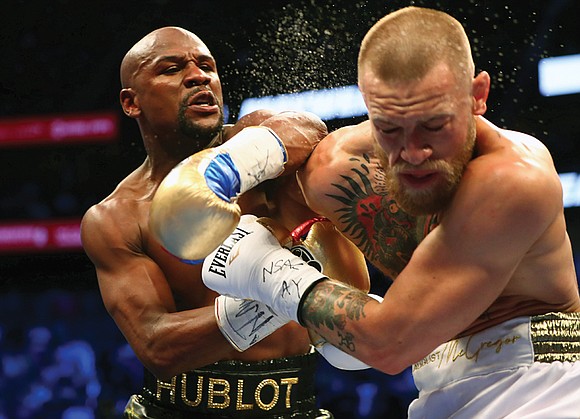 At the start, Conor McGregor was cool, calm and collected, and an upset seemed possible.
In the end, the rugged Irishman melted from the heat of a relentless Floyd Mayweather Jr. attack last Saturday night at the T-Mobile Arena in Las Vegas.
It took 10 rounds — longer than most expected — before benevolent referee Robert Byrd wrapped McGregor in his arms and halted what had become a one-sided bout.
The heavily favored Mayweather, aka "Money," was awarded a technical knockout. When the boxing match was stopped, the judges had Mayweather ahead 87-83, 89-82 and 89-81. He had won every round from the fourth on, on all cards.
Afterward, a relieved 40-year-old Mayweather announced he had laced up his gloves for the final time. He also gave a shout-out to McGregor, who proved to be a worthy opponent despite his background in the mixed martial arts world.
"Tonight was my last fight, ladies and gentlemen," Mayweather told ring interviewer Jim Gray and a worldwide Pay Per View audience.
"I chose the right dance partner for my last dance. Conor McGregor, you're a hell of a champion."
So what is next for one of the greatest pugilists in American boxing history, and for UFC Lightweight Champion McGregor?
Mayweather seems convinced, finally, to close the book on a sensational career that has produced a 50-0 record and multiple world titles.
The Grand Rapids, Mich., native has a worthy claim to GOAT — Greatest of All Time. Mayweather's 50th victory — and 28th knockout — nudges him past the late Rocky Marciano (49-0, from 1952 to 1956) as undisputed king of the undefeated boxers.
To help with expenses in his golden years, Mayweather also earned an estimated $100 million for his efforts in Vegas.
McGregor, who earned some $30 million for his boxing debut, is now 0-1 as a boxer but 21-3 in MMA, where he ranks as the sport's most shining marquee attraction.
At 29 and at his physical peak, he seems open to any upcoming bouts, whether in the ring or the octagon.
In contracting to face Mayweather, McGregor agreed to boxing-only rules —meaning no kicks, takedowns, etc., allowed in mixed martial arts.
Considering how much the rules favored Mayweather, it was a surprisingly competitive scrap. It helped that McGregor is 11 years younger, 2 inches taller and at least 10 to 15 pounds heavier than Mayweather.
During the first three rounds, McGregor used his advantage in reach and strength to keep a reluctant Mayweather on the defensive.
By the fourth round, the momentum switched. Mayweather began finding openings and McGregor went on the run.
By the ninth round, Mayweather clearly had become the hunter and McGregor the game. In the final two rounds, Mayweather threw 62 punches to McGregor's 14.
To his credit, McGregor wasn't cut and never went down or seemed to stagger. He was, however, in full retreat and there were no indications that would change.
In the aftermath, the fighter known as "The Notorious" complained — but only slightly — that he wished the fight would have continued at least until he was knocked off his feet.
In the more destructive MMA, a bout never would have been stopped so quickly.
Mayweather said it was his "game plan" to start slow but finish with a flurry.      
Is he telling all? Only Mayweather can be certain of the full strategy.
About 3:30 p.m. on fight day, Mayweather apparently tried — unsuccessfully — to lay down a wager that he would knock out McGregor in less than 9.5 rounds.
Mayweather reportedly tried to make the $400,000 cash bet through sportsbook at M Resort Spa Casino on the Las Vegas strip.
The failed transaction was reported by ESPN's David Purdum.
According to Purdum's "multiple sources," the bet was disallowed "due to concerns over legality of a fighter betting on himself for anything other than a straight victory."
Still, the fight's outcome makes you wonder.
The bout was stopped 65 seconds into the 10th round, which was 25 seconds under the wire for Mayweather's prediction and which would have allowed him to win the bet had it been placed.
You don't earn the nickname "Money" for nothing.