Kamaru Usman defends MMA welterweight title on 'Fight Island'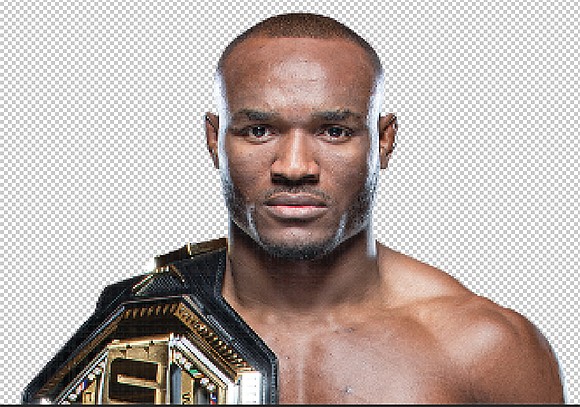 Fight fans who admired boxer Floyd Mayweather are likely to have an appreciation for Kamaru Usman.
The 33-year-old Nigeria native Usman is fast emerging as the Mayweather of Mixed Martial Arts.
Mayweather posted a 50-0 record in the ring, utilizing a strategy built more on defense and finesse than brutality.
It's much the same with Usman, who is quick to admit "I'm no bar fighter."
Known as the "Nigerian Nightmare," Usman successfully defended his Ultimate Fighting Championship welterweight title on July 11 with a methodical and unanimous decision over Jorge Masvidal.
The bout was held on "Fight Island" in Abu Dhabi and seen worldwide on Pay-Per-View. Rather than trade punches and kicks—and likely blood, Usman relied on five takedowns and pinning his opponent to the canvas.
Masvidal spent some 10 minutes of the five-round fight on his back, trying to fend off the muscular and relentless Usman.
Call Usman boring, if you must. But call him champion. His MMA record is now 17-1, with 16 straight victories. His only loss came back in 2013.
Despite his domination inside the Octagon, Usman has been criticized for not being more vicious in a sport with a "caveman mentality."
"We're risking our lives out there," Usman said in his post-fight news conference. "What's the point of going in there and just slugging and trading punches? People may want to see a bar fight ... but you train to make people miss, to control them in a certain way."
Since 2015, nine of Usman's 12 victories have come via decision rather than knockout or submission.
Usman moved from Nigeria with his family to Texas when he was 8. His wrestling career began at Bowie High School in Arlington, Texas, where he posted a 53-3 record. From there, he became the 2010 NCAA Division II champion at 174 pounds for the University of Nebraska-Kearney.
He has taken the well-crafted wrestling skills learned in high school and college to the pro ranks. Those talents have provided him a clear advantage in the Octagon once the MMA scrap goes to the canvas.
Mayweather dominated boxing for some 20 years, earning the nickname "Money" and "TBE" – The Best Ever.
Usman's nickname was actually a "hand-me-down" from former football star Christian Okoye, the original "Nigerian Nightmare." Usman asked for and was granted permission from Okoye to use the moniker.
MMA fans may not have to wait too long to see Usman in action again. He is likely to defend his title before the end of 2020 against Brazilian Gilbert Burns. With six straight wins and a record of 19-3, Burns was scheduled to fight Usman in Abu Dhabi, but was forced to withdraw after testing positive for the coronavirus.
Floridian Masvidal, who fashions himself as the "Baddest Man on the Planet," took the fight on short notice.
Meanwhile, Usman relishes his image as the "Mayweather of the Octagon."
"There was a time when people started hating Mayweather because he was so dominant because his defense was so good," Usman said.
Goes to show if you're skilled enough, you don't have to break noses, rearrange jaws and turn the canvas blood red to wear the champion's belt.