Tommy Hawkins, first black All-American at Notre Dame, dies at 80
Fred Jeter | 8/25/2017, 6:50 p.m.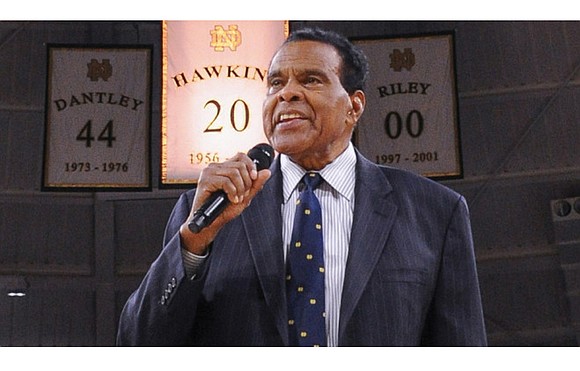 Tommy Hawkins, University of Notre Dame's first African-American All-American athlete, died Wednesday, Aug. 16, 2017, at his home in Malibu, Calif.
He was 80.
A native of Chicago who attended Parker High School, Mr. Hawkins was a basketball standout for the Fighting Irish from 1955 to 1959. He then went on to play 10 seasons in the NBA.
The 6-foot-5 forward scored 1,802 points and grabbed 1,318 rebounds in three seasons for Notre Dame. He played on the freshman team his first year. His rebound total remains the school's longest standing record. His No. 20 jersey was retired.
Notre Dame integrated the basketball team in 1951 with Joe Bertrand and Entee Shine.
Playing with the Minneapolis Lakers, Cincinnati Royals and Los Angeles Lakers in the NBA, Mr. Hawkins averaged 8.7 points and 6.7 rebounds in 764 games.
Mr. Hawkins later worked as a television and radio broadcaster in Southern California and was vice president for communications for the Los Angeles Dodgers at the time of his death.