VUU's Jackie Jackson of Harlem Globetrotters fame dies at 79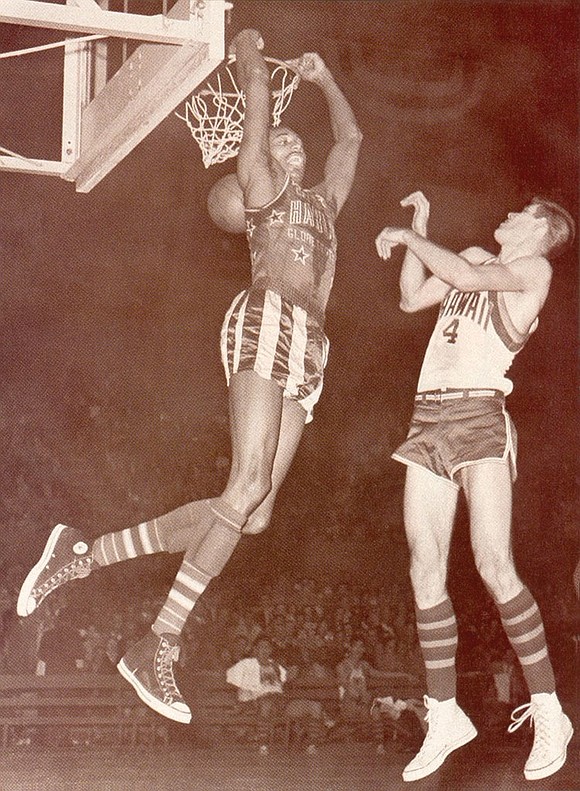 Jackie Jackson of the Harlem Globetrotters was a legendary fan favorite. It didn't matter whether the basketball game was inside or out, serious or more for fun.
Mr. Jackson, known to most as "Jumpin' Jackie Jackson," died Sunday, May 5, 2019, in Brooklyn, N.Y. He was 79.
Few athletes are more synonymous with their nickname. Mr. Jackson earned the "Jumpin' " tag as a young man when, on a bet, he snatched a quarter off the top of the backboard at Rucker Playground at 155th Street and Frederick Douglass Boulevard in Harlem. He was a regular at the outdoor Rucker Tournament that drew big-name pro and college talent, along with streetball legends.
Mr. Jackson enjoyed putting on a show on the basketball court, but he could play it straight if need be.  
While playing for Coach Tom Harris at Virginia Union University, the 6-foot-5 Mr. Jackson set rebounding records that have survived more than a half century. During the 1960-61 season at VUU, he averaged 24.7 rebounds. Twice he grabbed 30 in a single game.
Mr. Jackson became the 43rd overall pick by the San Francisco Warriors in the 1962 NBA draft, but instead signed with the Harlem Globetrotters. At the time, African-American players were a distinct minority in the NBA. 
He thrilled fans for 20 years with the Globetrotters, often turning sleight-of-hand feeds from Meadowlark Lemon into thunderous dunks. Other teammates on the talented team included Marques Haynes and Fred "Curly" Neal.
Mr. Jackson was born in New Bern, N.C., and moved with his family to Brooklyn at a young age. At Boys High in Brooklyn, his teammates included future NBA stars Lenny Wilkins and Connie Hawkins, and future baseball great Tommy Davis.
Mr. Jackson left his mark on many courts throughout the United States and abroad with the Globetrotters.
He is a member of the Hall of Fames at Boys High, Virginia Union University, the CIAA, Rucker Playground and the Harlem Globetrotters.
A book titled "The Legend of Jumpin' Jackie Jackson" was released by Adelphi Publishing in 2008. It was penned by Mr. Jackson, along with author Carl Agard.
Mr. Jackson also was on the list of "25 Greatest Streetball Players of All Time" compiled by Angel Diaz and Justin Block.
A funeral service is scheduled for 10 a.m. Thursday, May 9, at the Holy House of Prayer, 1768 St. John's Place in Brooklyn, N.Y.