Harlem Globetrotters to bring skills, laughs to Coliseum
Fred Jeter | 12/16/2014, 6 a.m.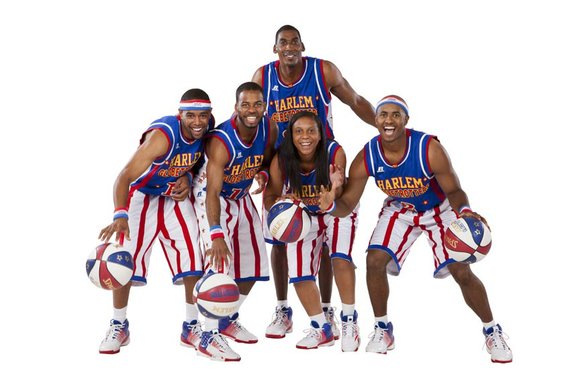 There are two things the Harlem Globetrotters do better than any other basketball team — win all their games and put smiles on the faces of fans of all ages.
So get ready to smile.
Full of fun, surprises and familiar antics that have delighted audiences for decades, the Harlem Globetrotters are coming to Richmond.
The one-of-a-kind squad that combines basketball skill with family oriented comedy will makes its annual Richmond appearance 3 p.m. Jan. 4 at the Richmond Coliseum.
Tickets are available through the Coliseum box office, at Ticketmaster outlets, online at www.ticketmaster.com or by calling (800) 745-3000.
Among the newest Globetrotters is Angelo "Spider" Sharpless, 2013 CIAA Player of Year from Elizabeth City State University.
This year's tour, featuring various squads of Globetrotters, runs Dec. 26 through May, with 310 games scheduled in 250 cities, 49 states and throughout Canada.
Former Globetrotters include Richmonder Clyde "The Glide" Austin, an alumnus of Maggie Walker High School; Jackie Jackson from Virginia Union Univeristy; and Ernie Brock and Frank Stephens from Virginia State University.
Also, dribbler extraordinaire Curly Neal was a longtime Richmond resident after starring at Johnson C. Smith University.
Created in 1926 by Abe Saperstein, the Harlem Globetrotters once played serious ball, featuring premier African-American talent such as Wilt Chamberlain, but have evolved into an entertainment squad.
Before the NBA integrated in 1950, many of world's most gifted athletes suited up in the Globetrotters' distinctive, red, white, blue and yellow uniforms and performed pre-game ball-handling magic to their toe-tapping theme song, "Sweet Georgia Brown."
The team, nowadays, isn't to be taken seriously.
The scoreboard is just there for show.
The Washington Generals, the Globetrotters' klutzy, handpicked opponent, have not defeated the team since 1971, by one account.
So, two things are guaranteed here Jan. 4 — a Globetrotters victory and a Coliseum filled with wholesome laughter.
•
On a somber note, Charles "Tex" Harrison, a CIAA Hall of Famer who enjoyed a distinguished career with the Harlem Globetrotters, died Nov. 20 in Houston at age 81.
Mr. Harrison starred in basketball from 1950 to 1954 at North Carolina College at Durham, now North Carolina Central University, scoring 1,304 points.
He went on to play, coach and serve as the Globetrotters' adviser for the next 60 years.
During a long tenure with the Globetrotters, Mr. Harrison sipped tea with Queen Elizabeth in London, ate caviar with Soviet Union Premier Nikita Khrushchev in Moscow and entertained three popes in Rome.
From 1974 to 1976, Mr. Harrison was part of the Saturday morning TV show, "Harlem Globetrotters Popcorn Machine," in which some of the athletes sang, danced and acted in comedy skits.