College star who broke color barrier dies at 85
5/12/2017, 7:03 a.m.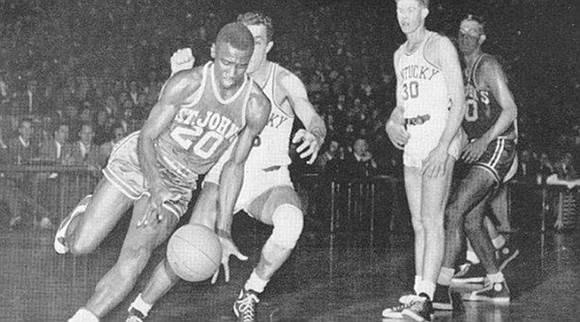 Solly Walker was front and center in the desegregation of NCAA college basketball.
The South Carolina native, who broke the color barrier on the team at St. John's University in 1950, died Tuesday, May 2, 2017, in New York at age 85.
As a child, Mr. Walker moved with his family to New York and became a basketball sensation at Boys High School in Brooklyn.
He signed with St. John's Coach Frank McGuire and played one season on the freshman team before joining the varsity squad in 1951 and logging three strong seasons.
There were only a sprinkling of African-American athletes playing for NCAA Division I level schools at that time.
During his sophomore year, Mr. Walker broke another barrier when the St. John's team played the University of Kentucky on its home court. Kentucky at that time still refused to admit African-American students to its undergraduate program and had an all-white basketball team until 1970. The Kentucky coach refused to let Mr. Walker play on the Southern school's home court until the St. John's coach told him to go ahead and cancel the game.
In the end, the Kentucky coach relented and Mr. Walker became the first African-American player to take the court at the school. Withstanding bigoted remarks from the crowd, the 6-foot-4 Mr. Walker made six of his first seven shots and the taunts increased.
Mysteriously, he was removed from the game. Coach McGuire explained the decision, saying Mr. Walker was injured.
Mr. Walker helped St. John's to the NCAA finals, where the team lost to the University of Kansas in 1952. He also helped the team to the NIT finals in 1953. St. John's lost to Seton Hall University.
The NIT Most Outstanding Player award that year went to another African-American player, 7-foot Walter Dukes of Seton Hall.
As a senior in 1954, Mr. Walker led St. John's in scoring — 14.4 points per game — and in rebounding — 12.2 rebounds per game.
During his three varsity seasons, Mr. Walker scored a total of 573 points and snagged 496 rebounds. He later became one of the first African-American athletes inducted into St. John's Athletic Hall of Fame.
Mr. Walker was drafted by the NBA's New York Knicks, but instead accepted a position with the New York City Board of Education. He spent much of his life as a teacher and principal in the New York City school system.
Survivors include his wife, Minta Walker, two sons and four daughters.