Dr. William R. 'Randy' Johnson Jr., retired research chemist and public servant, succumbs at 87
12/8/2017, 6:53 a.m.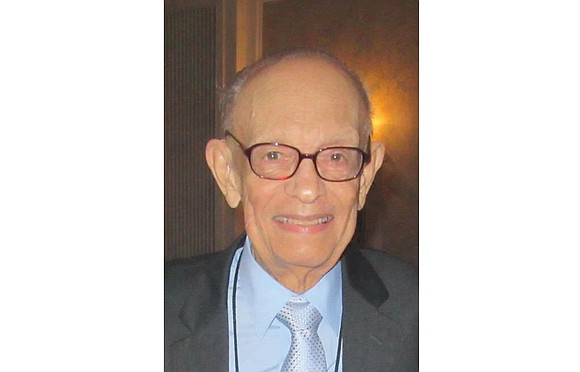 Dr. William Randolph "Randy" Johnson Jr. was a pioneering research chemist for Philip Morris who was better known outside the laboratory.
He was involved in securing 10 patents for the cigarette manufacturing firm for filters and other related items and co-authored 15 technical papers.
He also was a popular figure who was committed to public service and teaching.
He served on the Richmond School Board in the early 1980s and was appointed to the Richmond Planning Commission, where he rose to chairman.
Dr. Johnson's life and work is being remembered following his death Sunday, Dec. 3, 2017. He was 87.
His life will be celebrated at a memorial service 1:30 p.m. Thursday, Dec. 7, at Scott's Funeral Home Chapel, 116 E. Brookland Park Blvd., with interment later in Tallahassee, Fla.
"He was a consummate professional who operated at a highest level with the scientists he worked with," but he balanced his work with an active social life, said his physician son, Dr. William R. "Bud" Johnson III of Hampton.
"He had many friends and was always entertaining. He and (his late first wife, Wendolyn W. Johnson) were always having people over," his son said.
His active social life continued after he remarried in 2013.
"He was brilliantly smart, but he loved people, he loved parties and he loved chemistry," said his daughter, Pamela J. Baker, a life insurance agent in Tallahassee, Fla.

"He tutored many of my friends who turned to him when they had a problem with science courses."
Born in Oxford, N.C., Dr. Johnson earned his undergraduate degree in chemistry from North Carolina Central University in Durham. He earned his master's in the field from the University of Notre Dame and his doctorate in chemistry in 1958 at the University of Pennsylvania following two years of service as a chemist in the Army.
He initially was attracted to academia. He taught chemistry at Prairie View A&M University in Texas and at Florida A&M University in Tallahassee.
But in 1963, he was lured to Richmond to join the research staff at Philip Morris while also teaching chemistry classes at Virginia Union University.
Dr. Johnson rose to manage Philip Morris' Chemical Research Division for four years. He then spent two years at VUU as the Philip Morris executive-in-residence before returning to Philip Morris in 1981 to serve as manager of special affairs for plant communities for seven years.
He finished his career with the company in 1994 as a senior scientist.
He also found time to be an adjunct professor at various schools, including VUU and Virginia Commonwealth University, and continued to tutor students after retiring.
Many people came to know Dr. Johnson from his connections with more than 25 civic groups and organizations.
In addition to his volunteer service on the School Board and the Planning Commission, Dr. Johnson served on the city's Human Relations Commission and the city's Air Pollution Technical Advisory Committee.
During the late Judge Leroy Hassell's tenure as the state Supreme Court chief justice, he tapped Dr. Johnson to serve on committees on ethics and judgeships.
Dr. Johnson also belonged to or served on the boards of groups ranging from the Boy Scouts to the New Virginia Review, the American Red Cross and the Chamber of Commerce to St. Joseph's Villa, Commonwealth Catholic Charities, the Greater Richmond Area Scholarship Program and the Black History Museum and Cultural Center of Virginia.
He also was a member of Omega Psi Phi Fraternity, Sigma Pi Phi Fraternity (The Boulé), The Focus Club and The Guardsmen.
In addition to his son and daughter, survivors include his wife, Alice A. Johnson; two stepdaughters, Deborah Farmer and Robin Buskey; a stepson Shannon Bell; and seven grandchildren.
The family requests memorial donations be made to Commonwealth Catholic Charities of Virginia, 1601 Rolling Hills Drive, Richmond, VA 23229.