A remarkable life
10/2/2015, 8:01 p.m.
Dr. Allix Bledsoe James wore many hats during his distinguished 70-plus years of public service to education and the community.
He was a renowned educator and pastor and a trailblazer in numerous arenas.
His chief loves were his family and his late wife of 67 years, Susie Nickens James, and his beloved alma mater, Virginia Union University.
His distinguished career at the university started in 1947 as an instructor of biblical studies. He rose in responsibility and leadership — from dean of students to dean of the School of Theology — to serve as VUU's seventh president from 1970 to 1979.
Dr. James also made history as the first African-American to be elected president of the American Association of Theological Schools; the first to serve as Virginia region president of the National Conference of Christians and Jews, now the National Conference for Community and Justice; the first to be elected president of the Virginia State Board of Education; and the first to chair the Richmond Planning Commission.
He also was the first African-American to serve on a major corporate board in Virginia — Virginia Power.
Dr. James is being remembered following his death Saturday, Sept. 26, 2015. He was 92.
His remarkable life will be celebrated beginning Friday, Oct. 2, with a family visitation at Ebenezer Baptist Church, 216 W. Leigh St., in Jackson Ward. Memorial tributes will be conducted at 6:30 p.m. by Alpha Phi Alpha and Sigma Pi Phi fraternities, of which he was a member.
His funeral will be 11 a.m. Saturday, Oct. 3, in the chapel that bears his name in Coburn Hall on the VUU campus.
A selfless public servant, Dr. James was associated with more than 50 national, state and local organizations. He was one of the first investors in Paradigm Communications Inc., which publishes the Richmond Free Press, and served on its board. Most recently, he was featured in the Free Press' annual "Most Cherished Holiday Memories" in December 2014.
His uncompromising stance for civil rights and human rights was embodied in his actions. When VUU students were arrested in the late 1960s while protesting segregation in the city, he and his wife put up their home to post bond.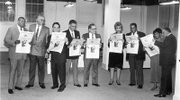 He challenged his colleagues on the state Board of Education to give high school seniors more than one opportunity to pass newly implemented minimum competency tests.
As VUU president, he helped establish Community Learning Week as a citywide celebration to honor Dr. Martin Luther King Jr.
At age 91, he talked about how the struggle for equal rights and justice continues during remarks he made at the January 2014 Community Leaders Breakfast when he was presented the Lifetime of Service Award by Dr. W. Franklyn Richardson, chairman of the VUU board of trustees.
"As we face the rising sun of a new day that has begun, let us march on, fight on, legislate on, work on until the reality of Martin Luther King's dream becomes a true factor in American life. Until it is really honored and respected. Until complete victory is won," Dr. James said to a standing ovation.