A remarkable life
10/2/2015, 8:01 p.m.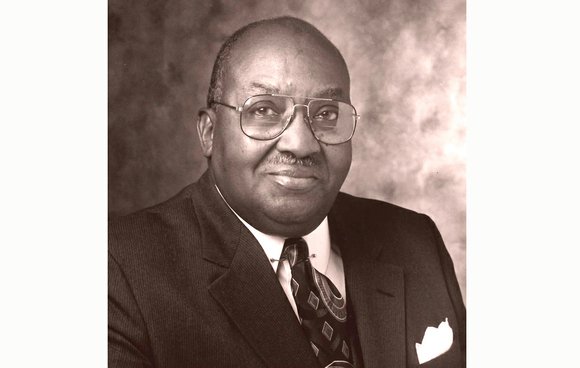 Dr. Allix Bledsoe James wore many hats during his distinguished 70-plus years of public service to education and the community.
He was a renowned educator and pastor and a trailblazer in numerous arenas.
His chief loves were his family and his late wife of 67 years, Susie Nickens James, and his beloved alma mater, Virginia Union University.
His distinguished career at the university started in 1947 as an instructor of biblical studies. He rose in responsibility and leadership — from dean of students to dean of the School of Theology — to serve as VUU's seventh president from 1970 to 1979.
Dr. James also made history as the first African-American to be elected president of the American Association of Theological Schools; the first to serve as Virginia region president of the National Conference of Christians and Jews, now the National Conference for Community and Justice; the first to be elected president of the Virginia State Board of Education; and the first to chair the Richmond Planning Commission.
He also was the first African-American to serve on a major corporate board in Virginia — Virginia Power.
Dr. James is being remembered following his death Saturday, Sept. 26, 2015. He was 92.
His remarkable life will be celebrated beginning Friday, Oct. 2, with a family visitation at Ebenezer Baptist Church, 216 W. Leigh St., in Jackson Ward. Memorial tributes will be conducted at 6:30 p.m. by Alpha Phi Alpha and Sigma Pi Phi fraternities, of which he was a member.
His funeral will be 11 a.m. Saturday, Oct. 3, in the chapel that bears his name in Coburn Hall on the VUU campus.
A selfless public servant, Dr. James was associated with more than 50 national, state and local organizations. He was one of the first investors in Paradigm Communications Inc., which publishes the Richmond Free Press, and served on its board. Most recently, he was featured in the Free Press' annual "Most Cherished Holiday Memories" in December 2014.
His uncompromising stance for civil rights and human rights was embodied in his actions. When VUU students were arrested in the late 1960s while protesting segregation in the city, he and his wife put up their home to post bond.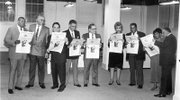 He challenged his colleagues on the state Board of Education to give high school seniors more than one opportunity to pass newly implemented minimum competency tests.
As VUU president, he helped establish Community Learning Week as a citywide celebration to honor Dr. Martin Luther King Jr.
At age 91, he talked about how the struggle for equal rights and justice continues during remarks he made at the January 2014 Community Leaders Breakfast when he was presented the Lifetime of Service Award by Dr. W. Franklyn Richardson, chairman of the VUU board of trustees.
"As we face the rising sun of a new day that has begun, let us march on, fight on, legislate on, work on until the reality of Martin Luther King's dream becomes a true factor in American life. Until it is really honored and respected. Until complete victory is won," Dr. James said to a standing ovation.
As news of his death spread, words of tribute and remembrance quickly poured in from those whose lives were touched by Dr. James.
Dr. John W. Kinney recalled how Dr. James recruited him to come to VUU as a student in 1969, later taught him as a graduate student at the university's seminary, encouraged him to earn a doctorate, and later, with two other former theology school deans, convinced him to accept his current position as dean of VUU's Samuel DeWitt Proctor School of Theology.
"He was a principled man who always wanted things done decently and in order," Dr. Kinney said. "He was an authentic man of faith and purpose who breathed life into everything that he was involved with.
"He had a tremendous spirit of generosity, and I'm not just talking about money," he added. "He always wanted to help you to be the best you could be. He always offered you encouragement, support and affirmation."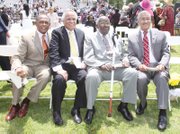 Mayor Dwight C. Jones, who earned a bachelor's degree from VUU in 1970 and a master's of divinity degree from its theology school, said Dr. James played a transformational role in his life.
"Dr. James took a personal interest in students and often invited them to his home where he and his wife imparted invaluable and practical guidance," the mayor said.
"His counsel is one of the main reasons I remained in Richmond," he added. "He always felt that my destiny had called me to be in this place. He was an inspired leader who made a difference in so many lives."
U.S. Sen. Tim Kaine recalled, "As a neighbor of Virginia Union and later as a member of the Richmond City Council, I came to know Dr. James many years ago.  
"In his leadership at Union, and in his deep engagement with philanthropic and civic causes in Richmond, we all came to respect and rely upon his calm public spirit and his ever present good will. Our community is better because of him."
Born Dec. 17, 1922, in Marshall, Texas, Dr. James was the son of a Baptist minister who became an ordained minister himself. He earned an associate degree from St. Philip's Junior College in San Antonio, and moved to Richmond in 1942 to attend VUU. He earned a bachelor's degree from Virginia Union in 1944, and a master's of divinity degree from VUU in 1946.
Dr. James also earned a master's and doctorate from Union Theological Seminary in Richmond.
As a young man, he served as pastor at Third Union Baptist Church in King William County, Mount Zion Baptist Church in Downings, and Union Zion Baptist Church in Gloucester County.
As he recalled in his memoir, "Three Score & Ten Plus: The Pilgrimage of an African American Educator," Dr. James met his wife, a preacher's daughter, while he was in seminary in October 1944. They were engaged during the Christmas holiday that year and married on the first anniversary of his father's death, Feb. 14, 1945.
Living in Richmond, they raised two children, Alvan Bosworth James, a Baptist minister who died in 1999, and Portia V. James-Stubbs, a guidance counselor with Richmond Public Schools.
This has been a particularly difficult time for the James family. Mrs. James-Stubbs' husband, Covye M. Stubbs, died on Thursday, Sept. 24, 2015.
Nothing meant more to Dr. James than his family and VUU. During his first year as president at his alma mater, Coburn Hall burned to the ground. It was one of the original buildings on the Lombardy Street campus and held the university's chapel. After being rebuilt in 1991, the chapel was named in his honor.
Under Dr. James' leadership as president, VUU thrived on many fronts. Its student population grew, along with its academic programs and funding. His ties and high regard in the business community enabled him to successfully establish a corporate gift program to support the university and renovations to many of the university's facilities. Most notable was a $2 million gift from Sydney and Frances Lewis of Richmond, the late owners of the former Best Products Co. Their gift was matched by the Ford Foundation.
The university's Department of Commerce was upgraded and renamed, becoming the Sydney Lewis School of Business Administration. It also achieved full accreditation in the process.
Dr. James also instituted the music program from which the university band was organized and hired two coaches that have served as a staple in the CIAA history books — Panther football Coach Willard Bailey and basketball Coach Dave Robbins, the first non-African-American to coach in the CIAA.
Both, along with Dr. James, have been inducted into the CIAA Hall of Fame. Coach Bailey was the winningest football coach in CIAA history and won seven conference titles. Coach Robbins led the Panthers to three national championships, 14 CIAA championships and 21 NCAA tournament appearances.
Dr. James also worked to strengthen VUU's connections with the community. For years, the Community Leaders Breakfast component of Community Learning Week was held on the VUU campus until its popularity drew crowds too large for the campus facility to handle and it was moved to a Downtown hotel. The event returned to VUU in January 2015 with the opening of the Claude G. Perkins Living and Learning Center.
Additionally, Upward Bound, a preparatory program for college-bound youths, was started on the VUU campus.
Among his many recognitions, Dr. James was listed in publications such as "5,000 Personalities in the World," "Who's Who in the World," "Who's Who in America" and "Who's Who Among Black Americans."
Survivors include his daughter, Mrs. James-Stubbs; daughter-in-law, Rosalyn James; goddaughter, retired Richmond Circuit Court Judge Margaret P. Spencer; and a host of other relatives and friends.
Entombment will be private at Forest Lawn Mausoleum.
The family asks that, in lieu of flowers, memorial contributions be made to the Endowment Fund at VUU or the Ebenezer Baptist Church Scholarship Fund.