Lighted boat parade Saturday highlights yuletide events
12/8/2017, 5:40 p.m.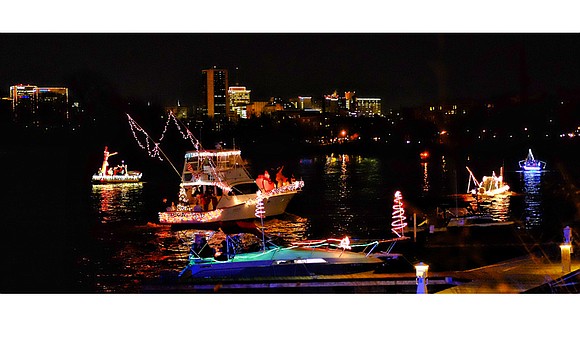 The yuletide fun continues in Richmond this weekend with the 25th Annual James River Parade of Lights in which boaters decorate and light their watercraft and parade down the James River.
The free event takes place 6 to 9 p.m. Saturday, Dec. 9, with viewing sites along the James River. Libby Hill Park, at 28th and Franklin streets in Church Hill, provides a great vantage point, where Friends of the James River Park System will offer free hamburgers, hot dogs, hot cocoa and cider.
A viewing site at Henrico County's Osborne Park and Boat Landing, 9530 Osborne Turnpike, will have entertainment and food and a "Big Toy Parade" starting at 3 p.m. Highlights will include a performance by Virginia Commonwealth University's Notocords a cappella group, a DJ spinning holiday tunes, train rides, games and Santa. The boat parade is expected to come by between 7 and 7:30 p.m.
In Chesterfield County, entertainment will begin at 5 p.m. at the Dutch Gap Boat Landing, 441 Coxendale Road, and at 6 p.m. at Henricus Historical Park, 601 Coxendale Road. The boat parade is expected at Dutch Gap between 7:30 and 7:45 p.m., and between 7:45 and 8 p.m. at Henricus Historical Park.
The event is sponsored by the James River Advisory Council.
Information: https://jrac-va.org/signatureevents/annual-parade-of-lights/
The Church Hill Association is hosting its annual Holiday Festival, featuring a Candlelight Walk and Caroling from 7 to 8:30 p.m. Saturday, Dec. 9, and its 53rd Annual Holiday House Tour from noon to 5 p.m. Sunday, Dec. 10.
The candlelight walk is free — people are asked to bring their own candles — and starts at the Jefferson Park Fountain, where bagpipers and drummers will lead the way to St. John's Church, Patrick Henry Park and Libby Hill, where caroling will take place, along with a visit from Santa.
Tickets for the house tour are $25; $30 the day of the tour. A shuttle is available to each home from St. John's Church, 2401 E. Broad St.
People are asked to wear flat, rubber-soled shoes to protect the floors of the historic houses that date back to the 1700s.
Details: www.churchhill.org/church-hill-holiday-house-tour-tickets/
The 31st Annual Court End Christmas, an open house celebrating 19th-century style in Richmond, will take place from noon to 5 p.m. Sunday, Dec. 10.
People can visit a variety of historic sites that will be open without charge. Tours, musical performances, living history presentations, carriage rides and children's activities will be featured at the sites. They include The Valentine, the Valentine First Freedom Center, the Executive Mansion, the Virginia State Capitol, the John Marshall House, Monumental Church, the Egyptian Building, St. Paul's Church, St. John's Church, Masons' Hall and the White House of the Confederacy.
A free shuttle will circulate among the sites.
Details: https://thevalentine.org/event/31st-annual-court-end-christmas/
Horse and carriage rides around Shockoe Slip also are available during the weekends provided by James River Carriages.
A 12-passenger wagon will pick up and drop off riders every half hour at the James Center, 10th and Cary streets in Downtown.
Cost: $10 per person; children age 4 and under sitting in a lap are free.
The rides are available Friday, Dec. 8, through Sunday, Dec. 10; Friday, Dec. 15, through Sunday, Dec. 17; and Friday, Dec. 22.
Reservations and information: (804) 350-7752.