Personality: Vinara L. Mosby
Spotlight on organizer of RVA Entrepreneurs
12/15/2017, 6:58 a.m.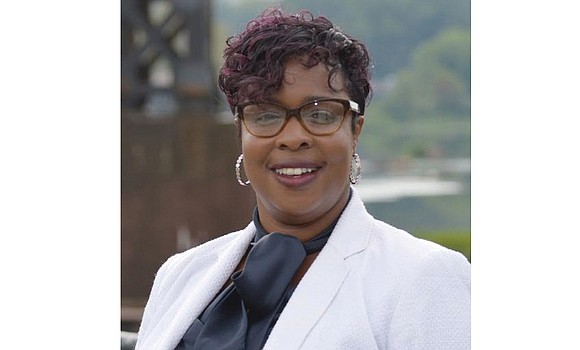 Occupation: Licensed professional hairstylist and insurance agent and owner of Maxamus Insurance LLC.
Community involvement: Coordinator, RVA Entrepreneurs' Dinner, Dance and Networking Gala.
Date and place of birth: July 22 in Richmond.
Current residence: Chesterfield County.
Education: Varina High School graduate in 1989. I have taken courses at Virginia Commonwealth University. I have licenses in cosmetology and insurance.
Family: Daughter, N'Dea, 25; son, Kaleb,14; and grandchildren, Lei'yah, 6, and Johaan, 1.
When RVA Entrepreneurs was founded: June 2017.
Its mission: We are dedicated to imparting knowledge, understanding and unity among all communities, while displaying high ethical standards of conduct and sound discernment. Combined, our members have more than 100 years of experience as entrepreneurs in finance, insurance, mental health, media and communications. We proudly share our combined business acumen, expertise and resources to assist those who are less fortunate.
How RVA Entrepreneurs differs from other business organizations: In Richmond, several of the traditional, minority-owned business organizations have been closely linked or aligned with many of the city's large, corporate entities. While many of those relationships have served our community well, the RVA Entrepreneurs differ in that our members enjoy forging new paths by partnering with similar-sized or solo business owners to network, exchange ideas and share resources. In addition, our members, who service hundreds of clients or customers, are job providers. Although some of us are sole proprietors, others, such as the highly successful The New Y-CAPP and Ndutime, have more than 200 employees combined.
Three essentials of entrepreneurship in the 21st century: Don't be afraid to go after your dream. Be daring. Be bold. Embrace your entrepreneurial spirit. Don't be afraid of failure because there is no such thing. Use social media to help you rather than to hinder you. Read to stay informed and for pleasure. Travel. Get out of your own way. Share what you've learned with others who want to know what you know.
Advice to young people interested in entrepreneurship: JUST DO IT and stick to it! Have a goal and a plan. Stay focused. Never give up. Always have patience and realize that Rome wasn't built overnight and neither will your business. The rewards in being consistent and persistent are immeasurable. There will be ups and downs, poor days and prosperous days, but watching your dream come to life can't be matched.
A perfect day for me is: Weekends when I wake up, turn on my TV and watch "Law and Order" on TNT. Then I will get up, throw on some sweats and socks, piddle around the house, maybe fix dinner, possibly bake a cake and do not touch my computer or cell phone for anything work related.
Favorite meal: I love shrimp and avocados and apples and dark chocolate.
How I unwind: After getting home most days around 6 p.m., I usually cook and clean. If it's after 8 p.m., I will shower and turn on the TV while I play "Words with Friends."
Something I love to do that most people would never imagine: I enjoy window shopping at the mall or when I'm traveling in another city or country.
A quote that I am most inspired by: "When you do more than you are paid for, eventually you will be paid for more than you do!" — Zig Ziglar.
People who influenced me the most: My good friends Donna Z. Pierce-Baylor, chief administrative officer of The New Y-CAPP, and John Jones of J. Johns and Associates. Both are very giving, kind and smart people.
Best thing my parents ever taught me: Work hard, give, don't worry about things you can't control. My father, Alvin W. Mosby Sr., has always taken care of his family, traits that have been passed on to me. My mother, Linda L. Walker, was a nurse who also worked hard. Both of my parents are huge givers. If you need something and they have it, then it's yours.
Books that influenced me the most: "Failing Forward: Turning Mistakes into Stepping Stones for Success" by John C. Maxwell and "The Four Agreements: A Practical Guide to Personal Freedom" by Don Miguel Ruiz.
What I'm reading now: "Good to Great" by James C. Collins.
My next goal: To partner with Richmond Public Schools' nutrition program.